Fall's 15 Most Anticipated Albums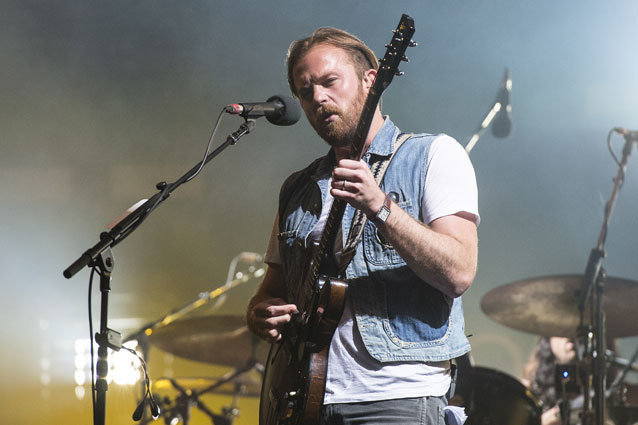 WENN
Summer may be winding down, but when it comes to entertainment, the year has just begun. Much like the film business, the music industry releases its big guns in the second half of the year, with some of the most anticipated albums of the year slated to be dropped in the fall. The influx of new indie and DIY artists has kept the music scene interesting, but for all you old schoolers yearning for some new music from familiar names, fall will definitely be your season.
Wu-Tang Clan: A Better Tomorrow (TBA)
Although there's no official release date as of yet, Wu-Tang Clan's sixth studio album, A Better Tomorrow, is tentatively scheduled to be released in November. The album is a milestone, marking the group's 20th anniversary, and will feature the late, great ODB's vocals on a few tracks.
The Roots & Elvis Costello: Wise Up Ghost (September 17)
What do you get when you put one of the greatest hip hop acts with one of the greatest rockers? Pure awesomeness, of course. The Roots' ?uestlove first hinted to a collaborative album in January in an interview with Billboard magazine, and a release date followed soon after. As if Roots + Costello wasn't enough, the record will also feature a guest appearance from La Marisoul, lead singer of La Santa Cecilla.
Elton John: Diving Board (September 13)
In between performing at Caesar's in Vegas, having kids, and hanging with Lady Gaga, Elton John managed to squeak out new music that will make up his 30th solo album, NBD. The album is John's second studio album without his band members since 1979's Victim Of Love and will feature twelve new songs and three piano interludes.
Eminem: The Marshall Mathers LP 2 (November 5)
Eminem's new album is the definition of "anticipated," since the first single (the Beastie Boys-inspired "Berserk") has already been crowned one of the hottest singles of the year and the album is a sequel to 2000's brilliant Marshall Mathers LP. The album is produced by Dr. Dre and Rick Rubin, and is expected to debut sky-high on the charts.
Mariah Carey: The Art Of Letting Go  (TBA)
Speaking of Eminem, Mariah Carey's got a new record set to drop sometime this year, as well. The album's release has had more dates than most people have in a week, but what's (semi)certain is that Carey's fourteenth studio album will be released in the next few months. The last release date was July 2013, which Carey pushed back because she didn't want to "exclude meaningful songs." All this waiting is making for some serious expectations.
Drake: Nothing Was The Same (September 24)
Drake's third album has everyone holding onto their hats, thanks to the star-studded line-up he's already confirmed will be making an appearance on his album. The Canadian rapper will be joined by Jay Z, Future, Lil Wayne, J. Cole, TLC, Justin Timberlake, Aiko, Big Sean, and more.
Arctic Monkeys: AM  (September 10)
British rockers Arctic Monkeys have made a solid career for themselves, going from the English equivalent of a bunch of frat boys to a respectable band made up of 4 talented musicians. Their fifth studio album, AM, finds the band getting some hip hop inspiration and also features an appearance from Queens of the Stone Age frontman Josh Homme.
Kings of Leon: Mechanical Bull (September 24)
Mechanical Bull has Kings of Leon taking on a bunch of new directions at once, with lead singer Caleb Followill telling Rolling Stone that the album is influenced by everyone from Queens of the Stone Age to Sly and the Family Stone. It'll definitely be interesting to see how the new tunes from the Nashville rockers turn out. 
Arcade Fire: Reflektor (October 29)
After their wildly successful 2011 album, The Suburbs, Arcade Fire are finally back with their fourth studio album. The album has been getting hyped since The Suburbs was still going strong, since everyone wanted to see what the band had up their sleeve next. Arcade Fire released some teasers for the record, including a 40-second video montage of the band in the studio that dropped on September 9.
M.I.A.: Matangi (November 5)
By now, just about everyone in the world knows not to mess around with M.I.A. The outspoken artist has never been one to shy away controversy, and the situation surrounding the release of her new album has been no different. After a number of delays of release dates courtesy of Interscope Records, M.I.A. threatened to leak the album herself if the label didn't commit to a date. Interscope finally bowed down and M.I.A.'s fourth studio album will be making its way into headlines everywhere come early November.
Lady Gaga: ARTPOP (November 11)
Lady Gaga's third album is already drumming up a lot of hype, thanks to the early release of the first single of the album, "Applause," which was mysteriously leaked immediately after Katy Perry's new single was mysteriously leaked. Gaga's new album is anticipated strictly for the "What the hell will she do next?" factor, not to mention that it will be interesting to see how she fares against her fellow other pop tarts.
Miley Cyrus: Bangerz (October 4)
Oh, Miley. What's not to anticipate here? From her brand new image as a twerking ambassador to her Miami Vice-inspired album cover, everything about Cyrus' new album screams "Look at me!", and, judging by how long it took for her VMAs performance to die down, look at her we shall. Bangerz will make or break Miley's venture into her new image, so it'll be interesting to see how it all pans out.
Justin Timberlake: The 20/20 Experience 2 of 2 (September 27)
Because 1 record isn't enough for a grandiose comeback, Justin Timberlake will be releasing the second half of The 20/20 Experience at the end of September. Timberlake is at his best when he's making music, and The 20/20 Experience provided a bevy of hits – hopefully the sequel will do the same.
Pearl Jam: Lightning Bolt (October 14)
After 2009's Backspacer, Pearl Jam fans are anxious to hear what the legendary band has to offer next. Produced by longtime Pearl Jam ally Brendan O'Brien, Lightning Bolt  will be the band's 10th record and will draw on everything from punk rock to Pink Floyd influences.
Sting: The Last Ship (September 24)
Already a singer, songwriter, musician, and producer, Sting is looking to add playwright to his resume, what with his working on a musical set to debut on Broadway sometime in 2014. The Last Ship is Sting's eleventh studio album and is inspired from his play, which looks at the 1980s decline of the shipbuilding industry in Newcastle, England. His first album since 2003's Sacred Love, the record will feature appearances from Brian Johnson of AC/DC, Kathryn Tickell, The Unthanks, and more.
More:
5 Boy Bands That Never Made It
Rappers In Action (Movies)
Ministry of Sound's Spotify Lawsuit Makes No Sense
---
From Our Partners:


40 Most Revealing See-Through Red Carpet Looks (Vh1)


15 Stars Share Secrets of their Sex Lives (Celebuzz)