A Holiday Gift Guide Using Only 'Real Housewives' Products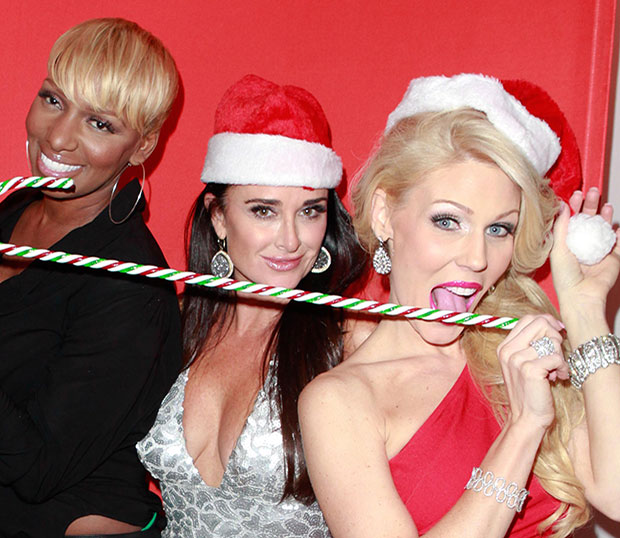 The only thing worse than having to hear "The Christmas Shoes" on the radio is the thought of visiting the mall between Thanksgiving and December 24th. So why bother trying to elbow your way through the masses? We got ideas for all the Christmas shopping you need to do right here and it's all thanks to the Real Housewives.
If there is one thing these ladies can do it's shill. OK, they're good fighters, too. Oh, and champion narcissists. But other than brawling and flattering themselves, they're also excellent at using their fame to sell us crappy products. Mostly jewelry and booze, but there are other things too. Like books, they write a lot of books. Here is your complete Real Housewives Gift Guide. Sorry, but each wife only gets one product, so there are still more that aren't even on the list. Yes, it's a travesty.
Ramona Pinot Grigio: Regular muggle wine isn't good enough for the Housewives, and it shouldn't be good enough for you either. This wine is made from the fermented nectar of crushed dreams. Enjoy.
Who to Buy It For: Your boozy best friend
Available At: Wherever fine liquors are sold.
Wines by Wives: The only thing better than watching Housewives drink wine and do stupid things is imbibing the same wine that they're drinking while watching them do stupid things. Pick which wife you want to pick out your wine.
Who to Buy It For: Your wine snob father
Available At: Wines By Wives
Skinny Girl Margaritas: An empire is not built by television programs alone and a mogul is not measured by the number of catchphrases she spawns. Help build Bethenny Frankel's brand while slimming down.
Who to Buy It For: Your tubby neighbor
Available At: Everywhere, girl
Fabulicious!: Fast and Fit: Teresa's Low-Fat, Super Easy Italian Recipes: If all the punctuation in this title were macaroni, you'd be so fat right now.
Who to Buy It For: Your coworker who always talks about Weight Watchers
Available At: Amazon
Yummie Tummie Shapewear: Why buy someone clothes when you can make them look better in the ones they already have? Heather Thompson would say "Holla!" at this point.
Who to Buy It For: Your sister-in-law who can't drop the baby weight 
Available At: Yummie Life Dot Com
Jill Zarin's Evil Eye Pendant: Ward off Bethenny Frankels everywhere with these "brilliant pave crystals" from Jill Zarin Jewelry.
Who to Buy It For: Everyone
Available At: Jill Zarin Jewelry, which a million people follow on social media
What Remains: A Memoir of Fate, Friendship, and Love: Carole Radziwill is a good person and a great writer. Even Oprah liked this!
Who to Buy It For: People you actually care about 
Available At: Amazon
SkyZone Sports Gift Card: Even former Real Housewives need to make money. Why not hop on over to Alexis Bellino's trampoline park? It is sponsored by Our Personal Lord and Savior Jesus Christ.
Who to Buy It For: Kids. Christians.
Available At: In Anaheim
Adrienne Maloof Yvonne Sandal: Nothing says luxury like a sparkly spiked strappy heel. And it's 50% off!
Who to Buy It For: Your brother's slutty girlfriend
Available At: Belk.com (What even is that?)
Lynne Curtain Cuff: Remember Lynne, the scared squirrel from the OC who designed awful bracelets and named them after her horrible daughters? Yeah, I didn't think so.
Who to Buy It For: That girl in your office you hate
Available At: Lynne Curtain Dot Com
A Gift Certificate to SUR: Who doesn't want to eat at Lisa Vanderpump's sexy, unique restaurant? And you get to hang with the cast of Vanderpump Rules, yet another reality show.
Who to Buy It For: Your fat cousin who is visiting L.A. 
Available At: In person in Beverly Hills
A House from The Agency: Sure Mauricio Umansky isn't really a Housewife, but he finances Kyle Richards' lifestyle. And who doesn't have $16 milllion to plop down on a property?
Who to Buy It For: Yourself, stupid. Or me. I'll take it.
Available At: How about this Bel Air Mansion?
Viva Diva Wines: You always wanted to get drunk with Kim Zolciak and now you can. Well, at least with her line of flavored wines. Did she grow up on Boone's Farm or something?
Who to Buy It For: Your drunk sister (or, if you want to be the cool aunt/uncle, your high school-aged nieces and nephews)
Available At: Viva Brands USA
Sonja Home Toaster Oven: Yes, you have a toaster and you have an oven, but do you have a toaster oven? No?! How are you going to make frozen pizza?
Who to Buy It For: Your college-aged child
Available At: Nowhere (this product is still hypothetical)
Follow Brian Moylan on Twitter @BrianJMoylan
[Photo Credit: Splash News]
More:
'Real Housewives of New York' Recap: The Resurrection of Jill Zarin
Lisa Vanderpump's Spinoff: Real Housewives React
NeNe Leakes to Launch Fashion Line: 10 Craziest 'Real Housewives' Ventures

Bar Refaeli Strips Down for New Underwear Campaign (PHOTOS, VIDEOS)

Kim Kardashians Best Bikini Moments (PHOTOS)