3 Surprisingly Affordable Stores Where All The Celebrities Are Shopping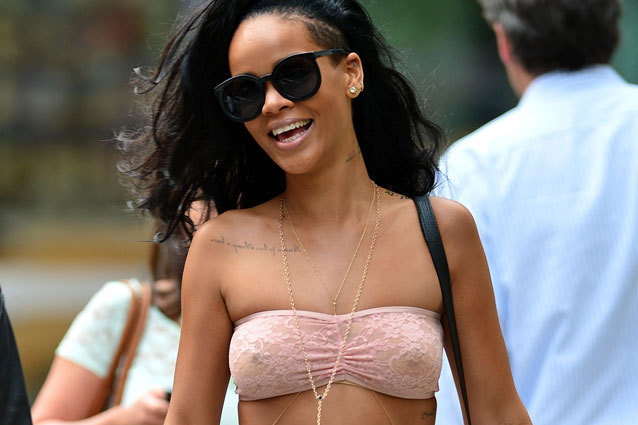 James Devaney/Wireimage
There's nothing more depressing, more financially damaging than trying to dress like a celebrity. Many of us have attempted such feats, splurging on the occasional Prada shades when we were in college. But as the years go by and real responsibilities start kicking in (like, ya know, apartments and diapers and whatnot) it gets to be more and more impossible to keep up with these celebs. However, occasionally, many of them leave the couture labels behind and hit up the kinds of stores that lots of us can afford — which is really nice of them. Rihanna, Beyoncé, Taylor Swift, Kate Bosworth, Julianne Hough, and even First Lady Michele Obama have all been spotted in beautiful threads from these three amazingly affordable spots. Which is awesome for those of us who want to dress just like them, on maybe 1/25 of their budgets.
They've teamed up with the dopeness that is Azealia Banks, and they're frequented by everyone from Michelle Obama to Vanessa Hudgens, to Kourtney Kardashian. ASOS is seriously the one-stop-shop for just about everything. The tops, the dresses, hell — even their maternity wear is off the hook. While they do carry some high-end brands, you'd be shocked at how much cuteness you can find for under thirty bucks. #WINNING
If it's good enough for Beyoncé and Rihanna, it's good enough for you! The British retailer is having a huge sale right now, and there's a good chance that you can get yourself something fabulous, and still pay your cell phone bill. They're a little pricier than ASOS, and cater to a slightly more sophisticated fashionista, but Topshop still offers a variety of styles for a good price. They've also got a pretty awesome beauty department to get you the total look.
This vintage-inspired online retailer has so much adorable stuff, it's almost overwhelming. A favorite of bloggers, Taylor Swift, and fashionistas alike, ModCloth is a must-visit site if you're into super-cute contemporary dresses with a 60s flare. They also have a brilliant system for customer reviews, where folks who recently purchased the item can upload photos of themselves wearing it. This is awesome because—let's face it—it never quite looks the same as it does on the model, right?
More:
Why We Need Azealia Banks
The NY Fashion Week You Didn't See
Worst-Dressed Emmys Ever?
---
From Our Partners:


40 Most Revealing See-Through Red Carpet Looks (Vh1)


15 Stars Share Secrets of their Sex Lives (Celebuzz)