Amanda Knox's Retrial to Examine Court Proceedings, Not Evidence of Guilt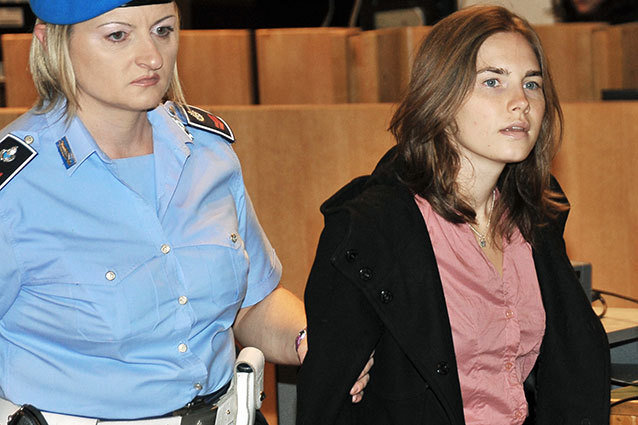 Amanda Knox's acquittal has been thrown out by Italy's highest court — but this doesn't mean she's going to be locked behind bars again any time soon. 
The reversal of Knox's acquittal is the result of a challenge brought by Meredith Kercher's — the young woman whom Knox is accused of murdering — parents. As the New York Times points out, the prosecution's right to challenge the acquittal is one of the biggest differences between the United States' court system and Italy's. In the U. S., defendants cannot be tried twice for the same crime after a verdict (either an acquittal or conviction) has been reached. 
Also of note is the fact that it is Italy's Court of Cassation that overturned (at least for the moment) Knox's acquittal. To quote the New York Times, "The Court of Cassation rules on questions of procedure, not on the merits of a case or the presumption of guilt or innocence." 
In layman's terms, this means that the court will be examining Knox's 2011 appeals trial itself. The court's adherence to civil procedure, rather than evidence of Knox's alleged involvement in Kercher's murder, will be under review. At this time, however, it is not known which particular bit of evidence or event will be examined during the proceedings. 
RELATED: Italian Court Orders Retrial of Amanda Knox
According to the Times, Knox's lawyer Carlo Dalla Vedova says that the legal reasoning for ordering a new trial will be revealed within 90 days, at which point lawyers will discover "which points of the case will have to be re-examined." 
Of the retrial, Dalla Vedova says, "The trial starts from zero and after we see the decisions we will know whether certain witnesses have to be recalled, or evidence retested."
Knox is not required to be present at the retrial, but if her conviction is withheld and confirmed by the Court of Cassation (whose decisions are final), Italy will be able to demand her extradition. Whether or not the U. S. complies (should it come to this) remains to be seen. 
RELATED: Amanda Knox's First Post-Trial Interview
While Knox is the media's heroine in this tale, there are two sides to every story, and the Times describes Kercher's parents as "jubilant." "This is marvelous," Francesco Maresca, a lawyer for the Kercher family, tells the Times of the appeal. "I had faith in the Court of Cassation. I was sure it would annul the acquittal." But for Knox, the retrial is sure to bring sleepless nights. 
HarperCollins plans to release Knox's book, Waiting to Be Heard, on April 30 as planned — and Knox will proceed with her press tour as scheduled — but this will not be an easy time for the 25-year-old. Dalla Vedova says of Knox's reaction to the retrial's announcement, "She was sad. She believed the nightmare was over." 
Follow Abbey On Twitter @AbbeyStone
[Photo Credit: Stefano Medici/AP Photo]
---
You Might Also Like:


15 Oscar-Winning Nude Scenes


10 Insane 'Star Wars' Moments You Didn't Notice