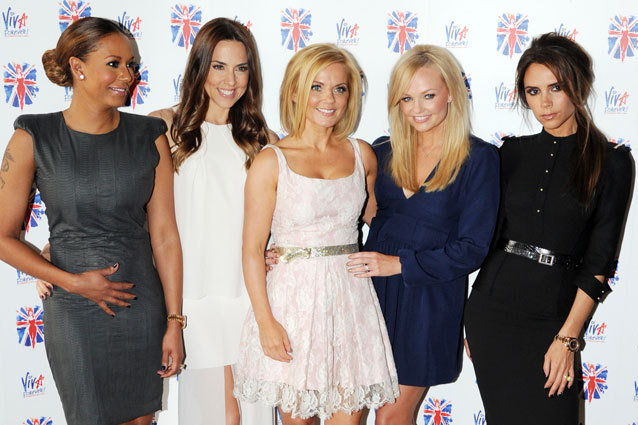 Dave Hogan/Getty Images
Some things should just be left as they are, and that definitely goes for certain bands getting back together. Whether it's pop, rock, R&B, or metal acts, reuniting with your long-lost band has become something of a trend as of late. Many bands claim to get back together to revive their creative talent, but it's really not too hard to see that bands get together when bank accounts start to empty out.
Recently, Joan Jett wisely refused to do a Runaways reunion, and it got us thinking about what other bands should've done the same to keep their legacy intact.  
Spice Girls
Though the tour may have been a success, the Spice Girls reunion tour in 2008 was more than awkward. The girls were all grown up, and all that was left from the platform-shoed, UK-flag-clothing empire that the Spice Girls created in the mid-'90s was a bunch of washed up pop stars trying to relive their glory. Posh Spice couldn't even be bothered to show up to certain promotional events, and spent most of the concerts posing and lip synching for her life.
The Velvet Underground
The Velvet Underground was always known to be a talented band full of quick-tempered divas, so when they announced a VU reunion in 1992, fans everywhere were pretty shocked. The group got together for a European tour in 1993, with John Cale filling in vocal parts for Nico, who had passed away in 1988. The European tour went well, and the band decided to move forward with an American tour, as well as an MTV Unplugged set and maybe even a new record. Not surprisingly, though, the legendary beef between Cale and Lou Reed reared its arty head, and Cale stormed out of the group before any of their future plans could move any further.
The Jacksons
What are the Jacksons without Michael? Jackie, Tito, Jermaine, and Marlon got together in 2012 for the Unity tour, supposedly dedicated to their late brother, Michael (Randy sensibly declined to join the tour). The tour seemed doomed from the get-go, having being met by the public with more eye-rolls than excitement, especially with rumors going around that the group might use a MJ hologram on the tour. Not surprisingly, the ill-fated vibes surrounding the tour at its inception ended up being legit – out of the thirty-eight tour dates that the Jacksons announced, eleven U.S. shows were canceled, and although the tour was supposed to last from June to December, wound up ending in late July. Should've listened to LaToya, boys!
The Police
The Police was legendary for the tension between lead singer/bassist Sting and drummer Stewart Copeland, which culminated in many dramatic moments, like the time Copeland "accidentally" broke one of Sting's ribs in the studio. The band broke up in 1984, so it was surprising to hear that they were getting back together in 2007. However, it didn't take long for the claws to come out –after their first performance, Copeland published a statement on his website, giving his own band a phenomenally crappy review. Copeland compared the beginning of the show to premature ejaculation, called the show "lame," said that Sting looked like a "petulant pansy" (points for awesome alliteration), and declared that the band was merely playing "avant-garde twelve-tone hodgepodges." Now that's pure poetry.
New Order
This reunion was awkward for a lot of reasons. For starters, if New Order is Joy Division without Ian Curtis, shouldn't New Order only be New Order when bassist Peter Hook is around? Clearly, the band didn't think so, going forward with a 2011 reunion with a different line-up. Hook had refused to join the band for a series of tour dates, but the band went forward with their reunion, anyway. Hook released a series of zings in response, including "The truth is, [singer] Bernard's a twat and he always has been" and "I don't think they're New Order, because I was in that band."  Ruined in a day, indeed.
More:
Tina Fey and Miley Cyrus to Host 'Saturday Night Live'
Fall's 15 Most Anticipated Albums
2013's Best Music Videos (So Far)
---
From Our Partners:


40 Most Revealing See-Through Red Carpet Looks (Vh1)


15 Stars Share Secrets of their Sex Lives (Celebuzz)