Brittany Kerr Faces Internet Backlash for Jason Aldean Make-out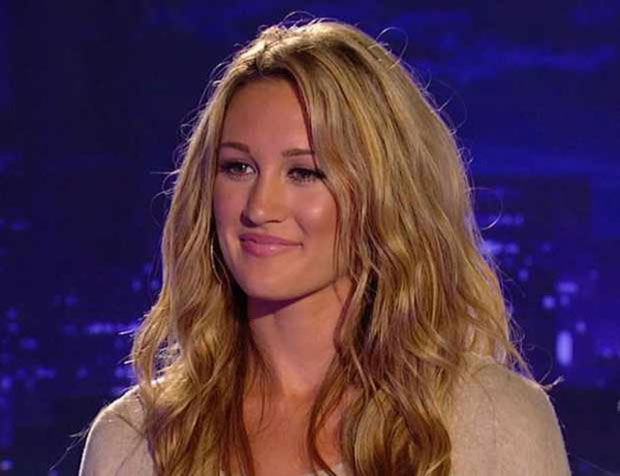 So, former American Idol contestant Brittany Kerr likes to make out with strange men in bars; is that a crime? According to Twitter and Facebook users, it should be — and one that is punishable by public stoning, no less. Kerr came under heavy fire when news broke yesterday of her public make-out session with married country music star Jason Aldean, with online commenters slinging harsh terms like "slut" and "home-wrecker" her way. The criticism was so severe that Kerr decided to delete her Twitter account.
And yet, after so much unwarranted (stay with me) abuse, Kerr is the one apologizing. "The actions I portrayed recently were not a representation of my true character, but a lapse in judgment on my part," Kerr said in a statement to E! News. "I would like to sincerely apologize to everyone that has been affected by this, including my friends and family."
In these sorts of extramarital affairs, I strongly believe that both parties are to blame. The only (kinda maybe sorta) exception is when one party doesn't have all the information — like, when one person doesn't know that the other one is married. Which, according to TMZ, is what happened in this case. Sources told TMZ that Kerr had "NO IDEA" (yes, in all caps) Aldean was married, and that "if she would have known, she would have shut the whole thing down from the start." And yet, it is Kerr, not the actually married Aldean, who was forced to shut down her Twitter account to avoid hateful comments.
Whether you believe Kerr's ignorance or not, the lopsided criticism is inexcusable. This affair and its fallout are more than a little reminiscent of the Great Kristen Stewart/ Rupert Sanders Debacle of July 2012, and that's not a good thing. Sanders was the family man, the guy with the ring on his finger, and yet Stewart had to deal with "Trampire" T-shirts and Internet backlash. And do you know why that is? It's because women, like Stewart and Kerr, are inherently seductive, salacious creatures who want nothing more than to ensnare innocent, unsuspecting husbands in their lustful webs. The married men who conveniently forget that they have wives at home, meanwhile, are just "boys being boys." This is obviously the most logical explanation. 
No, I'm sorry, there is no logical explanation for letting the man off Scot-free. It takes two to tango, social media commenters! Can't we share the blame (and while we're at it, tone down the inflammatory language)? I'm not asking that we give celebrities a free pass when they commit indiscretions, but I would like to encourage everyone to distribute their blame evenly. Both parties acted reprehensibly here, lets act accordingly. End rant.
Follow Abbey Stone on Twitter @abbeystone
[Photo Credit: FOX]
More:
Jason Aldean's Cheatin' Ways: Wait, This Isn't a Country Song?
Should Robert Pattinson Open Up About the Kristen Cheating Scandal?
Arnold Schwarzenegger's 'Total Recall' Memoir Reveals His Darkest Secrets
---
From Our Partners:


Beyonce Flaunts Bikini Bod for H&M (Celebuzz)


33 Child Stars: Where Are They Now? (Celebuzz)