Can Chelsea Handler's Fame Clock Please Strike Midnight?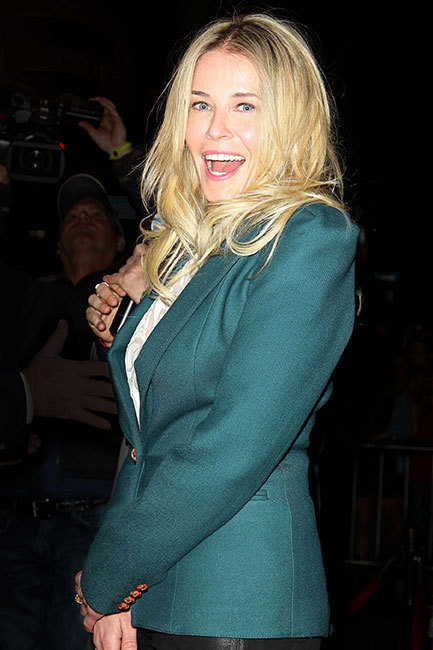 FayesVision/WENN
I like puns. If they are done well. The problem is that they are often done badly. Chelsea Handler's new book, "Uganda Be Kidding Me" falls squarely in that category. What's it supposed to mean? Some dumb version of "You Gotta Be Kidding Me?" It also just made me wish that she would go away. Yes, bad puns offend me that much.
I have never been a big fan of Handler's — yes, I've watched her show. It's not a blind dislike here. But I never understood why her doomed network sitcom, Are You There, Chelsea? starring Laura Prepon, even got greenlit. It's a good thing Prepon, who I have been a big fan of since her days on That 70's Show, moved on to the far superior Orange Is the New Black.
She's far from the only person that I wish would see their Fame Clock expire: Carrot Top, pretty much all of the talking heads on Fox News, Kim Kardashian… Handler first really got on my bad side with her very tasteless turn as the host of the MTV Video Music Awards in 2010 (though I still think they should just have been called the MTV Reality Show Awards by that time). It's probably a telling point that she wasn't deemed fit to return by an awards show that once had Madonna writhe around on stage in a wedding dress while singing, "Like A Virgin."
Of course, many may point out a big reason that she got her show in the first place was because she was dating Ted Haubert, the head of the E! Entertainment Network at the time before he went to NBC. (Where her Prepon-led show landed. Hmm.) While romantic relationships between actors and their producers are not terribly uncommon, we're not brought to consider nepotism in regards to Katey Sagal on Sons of Anarchy (she is Kurt Sutter's wife) or Christa Miller on Scrubs and Cougar Town (she's married to Bill Lawrence). Because they actually have talent, and we couldn't imagine anyone else playing their respective characters, regardless of off-screen connections.
So, maybe the clock will strike on Handler's Fame Clock. Then someone equally undeserving will step in.