Michael Jackson's Doctor Conrad Murray Serenades Anderson Cooper From Jail — VIDEO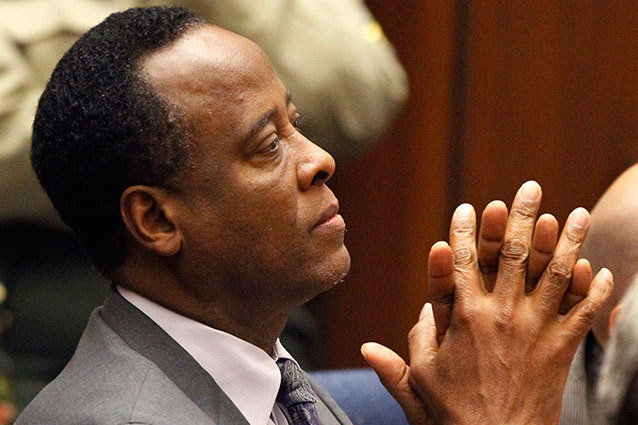 Anderson Cooper knows how to be cool under pressure. He waded knee-deep in the flood waters of Hurricane Katrina in New Orleans. He's been beaten up in Egypt. He endured Kathy Griffin trying to "kiss his sardine" on New Year's Eve. But hurricanes, political unrest, and Griffin are all relatively unsurprising sources of discomfort. 
Kathy Griffin Simulates a Sex Act on Anderson Cooper
But then something so unexpectedly crazy happens that even Cooper can't keep a puzzled look off his face. In fact, what happened Tuesday night on Anderson Cooper 360 caused him to adopt an expression that can only be called the "Quizzical Collie Dog" look.
Imprisoned former medical practitioner Dr. Conrad Murray, who was convicted last year in the wrongful death of Michael Jackson, tried to explain his tragic life to Cooper. You know, what exactly made him want to be a doctor with ethics that make Nick Riviera look reputable. So he broke out in song with "The Little Boy That Santa Claus Forgot," a latter-day Christmas tune about a poor, fatherless tyke who got nothing in his stocking come Dec. 25. You know how they say music can be more powerful than words? This may be the exception. Check it out.
Murray will need extensive vocal lessons to approach anything close to the virtuosity of the best known singer of "The Little Boy Who Santa Claus Forgot," Natalie Cole. He rushes the first few lyrics. And it sounds like he didn't do any exercises to loosen his vocal cords before beginning the serenade. But he does settle into it near the end, slowing the tempo and adding a sweet falsetto croon to "I'm so sorry for that laddie / He hasn't got a daddy…" Murray may be attempting to mine the song of its latent emotion rather than striving for technical excellence. 
What do you make of his performance?
Follow Christian Blauvelt on Twitter @Ctblauvelt
[Photo Credit: CNN]
---
From Our Partners:


40 Most Revealing See-Through Red Carpet Looks (Vh1)


33 Child Stars: Where Are They Now? (Celebuzz)