Heath Ledger's Family Sells Commemorative T-shirts For $110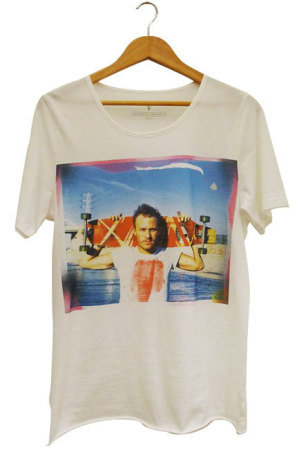 Hold on, that headline is not how it looks. Yes, Heath Ledger's family is selling limited-edition t-shirts of their late son for $110. But the money is going to charity. Does that make it feel less yucky now? 
The commemorative tees — which are being sold with the family's permission — features a photo of the Oscar winner taken in 2004 by famed photographer, Ben Watts (brother to actress Naomi). The shoot — which shows the Australian actor holding his favorite mode of transportation, a skateboard — took place in Los Angeles around the time he was filming the true life story of a group of California-based skateboarders, Lords of Dogtown. Watts calls it "a day I will never forget."
RELATED: The Best of Heath Ledger
The actor died in 2008 while filming The Imaginarium of  Doctor Parnassus and this is the first time an item has been approved for sale by his estate. All proceeds from the item, which are being sold on the actor's website, will benefit the Heath Ledger Scholarship Fund and two Australian charities. 
Follow Lisa on Twitter @LisaCostantini.
[Photo Credit: heathledger.com.au]
---
You Might Also Like:


15 Oscar-Winning Nude Scenes


13 Most WTF Fan Tributes