Hollywood Has a Problem with Latinos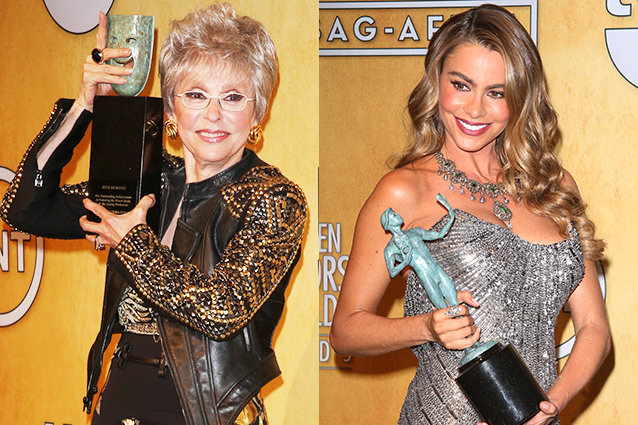 Splash News
At the 2013 Screen Actors Guild Awards, Rita Moreno added The Lifetime Achievement Award to her heavily populated display. That same night, Sofia Vergara also won an award as part of the Modern Family ensemble. In the 50 years since Moreno's iconic role in West Side Story, things haven't changed much for Latinos in Hollywood. Women have swapped bare feet and cascading skirts for high heels and mini skirts. Men have gone from playing fieldhands and gang members to… also playing dishwashers. White actors still act in brownface portraying Latinos as loud and ignorant. When are things going to change?
Latinos are 17 percent of the U.S. population and the largest minority group. Spanish is the second most spoken language in the world. And yet, Latinos are not widely represented in American media. The Spanish speaking populace has somehow become synonymous with ignorance on TV. When Latinos are represented they are often portrayed as violent, quick-tempered, and hypersexual. Case in point: Vergara's character in Modern Family is prone to outbursts and is often half-naked, and the lion's share of her jokes is about her trouble with English.
Penelope Cruz and Salma Hayek Are Different People!
Latinos come from countries in The Caribbean, Central America, and South America. These different countries are united by the Spanish language. This would be like considering people from Hong Kong, India, Australia, and the Bahamas one race because they all speak English and drink tea. The diversity of Latinos seems to perplex Hollywood. Penelope Cruz was listed as Salma Hayek on the Academy Awards Instagram page. Cruz is a 5'6″ European woman and Hayek is a 5'3″ Mexican. They may speak the same language but Cruz's career is more similar to Monica Bellucci. Both actors had thriving film careers in Europe and were seamlessly incorporated into American casting. Hayek had to claw her way from playing prostitutes and stereotypical bit parts in Hollywood to getting a big break.
Market Split
Latin spending power is diluted between the Spanish-speaking and English-speaking markets. There are Spanish language networks that cater to recent immigrants and abuelas everywhere. They broadcast novellas, Spanish soap operas, and original programming. It can be challenging to try and unite Spanish-speaking and English-speaking audiences. Mainstream crossovers can be challenging because Latino celebrities are not widely known in America. Chasing Papi was an English-language Latino comedy featuring a young Vergara, and a who's who of Latino celebrities. However, it was unable to resonate with American audiences.
Brown Face
In West Side Story, white and Latino actors were literally painted brown to distinguish them as the Puerto Ricans. Despite being Puerto Rican, Moreno had to wear dark make-up to play her own race. Many non-Latin actors have played Latino roles, with varying degrees of success: Hank Azaria, Johnny Depp, and Anjelica Houston have all played Latinos. There have even been white actors in historical representations of Latino history. Ethan Hawke played a Uraguayan in Alive and Ben Affleck's character in Argo was based on half-Mexican CIA agent Tony Mendez.
As recently as Lena Dunham's episode of SNL, non-Latino actress Cecily Strong plays a Venezuelan whose humor and conflict derive from the fact that she can't speak English. With no Latino performers on SNL, characters like this seem insensitive. Plus, there's that accent — Strong's costar Kate McKinnon has played Latin characters and can at least do a convincing accent.
Key to Success: Play Another Race?
Moreno played Tuptim in The King and I. Almost 60 years later, successful Latino actors find more success playing outside their race. Dominican/Puerto Rican actress Zoe Saldana has found more commercial success playing characters identified as black and non-Latino. Alexis Bledel, Frankie Muniz, and Aubrey Plaza are all assumed to be Caucasian and often cast with Caucasian parents and relatives. Even Martin and Charlie Sheen found it necessary to change their name from Estevez.
Banished to Basic Cable
It seems like the most diversity exists on basic cable. It's hard to believe that Wizards of Waverly Place is more representative of a modern family than the eponymous sitcom. It features a bi-racial Latino/American family. Everyone can speak English and the children still have a sense of culture. ABC Family shows like The Fosters and Switched at Birth include multiple series regulars that are Latino. The shining beacon on television is Brooklyn Nine-Nine. It has two Latin actresses Stephanie Beatriz and Melissa Fumero offering atypical and actually inspirational portrayals of Latinos. This is progress considering Beatriz played Vergara's ignorant Colombian cousin in an episode of Modern Family. Check out how Beatriz describes her strong and accent-less role as success for Latinos.