Justin Timberlake's 'The 20/20 Experience' Shows a Man Grown Up — REVIEW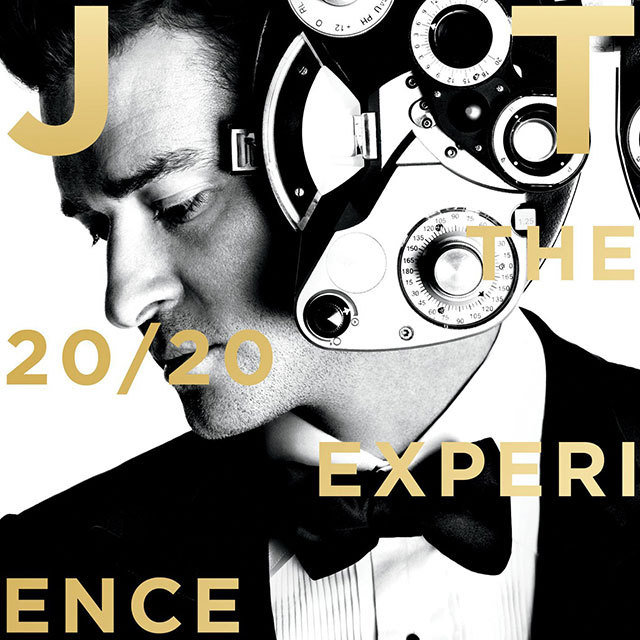 Do you think Jessica Biel's résumé just says "Justin Timberlake's Muse" in all big letters and nothing else, now? Because she's managed to get America's favorite former Mickey Mouse Club member to finally (finally!) return to music. With his new album, The 20/20 Experience, Justin Timberlake has penned a sexy, sultry love letter to the new Mrs. Timberlake and, in turn, has announced his return to speakers the world over.
Mr. Timberlake is in l-o-v-e, y'all, and he's taken quite a liking to soulful, vintage stylings in order to fully express his feelings. Love just sounds more authentic when it's crooned over 70s-soul-tinged R&B. The marriage of JT's vocals with swelling big band strings, creeping vintage beats, and a bit of updated retro-soul was a smart move on his and producers Timbaland and J-Roc's part; it fills the gap in today's old school renaissance with a little bit of grown-ass-manliness. While Bruno Mars might be the flashiest tenant on the pop block, Timberlake has proven why he's the landlord of the whole damn building.
RELATED: First Reactions to Justin Timberlake's 'The 20/20 Experience'
Unlike past efforts, The 20/20 Experience is an album fully-realized: it's not a collection of chart-topping singles and guest appearances (indeed, Jay-Z's verse on "Suit & Tie" is the album's only instance of such work), but rather a unified aural experience. He wants you to experience the album, not just the songs. Tracks are not broken up into easily-digestible 2:30 snippets, but rather grown slowly over the course of several minutes and allowed to shift, curve, and swirl into existence. It's something that will undoubtedly be off-putting for some (and sometimes felt like a distraction), but a breath of fresh air to others. Overall, Timberlake is on his Michael Jackson, hyper-focused game.
When he sings "I say goodbye to the old me / it's already gone," during the second single, "Mirrors," you believe it. Sure, perhaps a bit of editing could've benefitted the middle bits, but the album has the confidence and cadance of a man no longer lost in the world of twentysomething cockiness. While FutureSex/LoveSounds told the world Timberlake was no longer a teen dream, The 20/20 Experience throws a smoking jacket on the man and turns him into a capital-M Man. And a Man isn't a series of spastic parts, he's a fully-realized artistic vision. So, while some parts shine far greater than others, the essence of who this new Timberlake is has arrived, whole. This is an album, an experience (duh) to be had — not just another collection of hits and ditties.
The album starts out with the sexy, sultry, and delicious "Pusher Love Girl." Here, Timberlake shines as the leading man of a musical exploration of Old Hollywood, pushed forward with the funky back-beat of an old school Prince jam. His love has narcotic qualities to it — as does the tune itself. The fact that this isn't the second single feels a bit surprising, to be honest. First single "Suit & Tie" appears second on the album — a song I admittedly had less-than-favorable opinions to upon first listen. But this tune is a grower. Maybe it's the songs perma-placement in advertisements and radio waves, but it won me over — or at least wore me down. It's shown us a few things (a few thangs), and it can't wait to get you on the floor, good-lookin'.
RELATED: Listen to Justin Timberlake's New Song, 'Suit & Tie'
The middle of the album suffers from a bit of the editing deficiency previously mentioned. Timbaland-heavy tracks such as "Don't Hold the Wall" and "Tunnel Vision" feel slightly out of place on the whole, but still satisfy that inherent spot in the back of your head, keeping you on the dance floor for just one more song. "Don't Hold the Wall" feels heavily Indian in influence, including a sample that gives it a mysterious hot-girl-running-down-a-smoky-back-alley-in-New-Delhi vibe. This is as SexyBack Timberlake as you're going to get. A track that will likely do well late night at the clubs, it ultimately shies away from the album's true power.
"Strawberry Bubblegum" may be the most head-scratchy track of them all: it's bouncy with the flare of a crackling, 70s-soul groove, but ultimately falls flat and feels like an unfinished vision. To say nothing of the weird, Barry White-esque sing-talking interjected throughout. "Tunnel Vision" is perhaps the most architectually Timbaland tune of the bunch; rife with his signature uh-huhs, break-it-down-nows, and here-we-gos, the track reminds us that sometimes even superstars are self-conscious, y'all. There are movie references (because Timberlake's a big-time movie star now, you know!) aplenty, punctuated by electro-mixed string sections that feel perhaps like the most "now" song on the LP.
The Barry White business continues on "Spaceship Coupe" which is vocally on-point, but feels slightly cringeworthy in subject matter. Is Timberlake writing a slowjam for his TARDIS built for two? If Doctor Who was even a remotely sexual being, this would be the tune he played before trying to get his companion pregnant with a baby Time Lord.
One of the best additions to Timberlake's musical vision is that of The Tennessee Kids, his backing band, which features most on the previously-heard tune, "That Girl," a fine song if nothing special. During live performances, their work shines, but feels pushed aside on the album itself. "Let The Groove Get In" feels like a tune to blast while on vacation in Rio, and folds well into Timberlake's next single, "Mirrors," which features Timberlake's return to form. This is the FutureSex man we met in the aughts, now in love rather than in like, with nothing left to prove except the love in his heart for his lady.
RELATED: Justin Timberlake Has Contracted The Funk on Two New Tracks
The end of the album proves to be the most surprising: "Blue Ocean Floor" showcases Timberlake's vocals as the star of a melodically pensive track. The music slowly puddles around the steady stream of his crooning fluctuations. And trust, there is nothing easy about the way he vocally flips and jumps on this track — and its deviation from the rest of the album is refreshing. The highs and lows mimic the steady push and pull of the tide, and is a fantastically unshowy way to close an otherwise album. 
In the end, Timberlake is back and has given fans a taste of the refined, confident man he's become in love and life. The 20/20 Experience has flickers of the curly-haired novice we all grew to love as a boyband frontman, and later respect as a minted R&B stalwart. Timberlake is back, and while it might not be perfect, it is pretty, pretty good.
What do you think of The 20/20 Experience? Sound off in the comments.
Follow Alicia on Twitter @alicialutes
[Photo Credit: RCA]
---
You Might Also Like:


Topanga's Revealing Lingerie Shoot: Hello '90s!


Stars Who Have Lost Roles For Being Too Hot (Celebuzz)