Lena Dunham's Book Deal Earns an Impressive $3.5 Million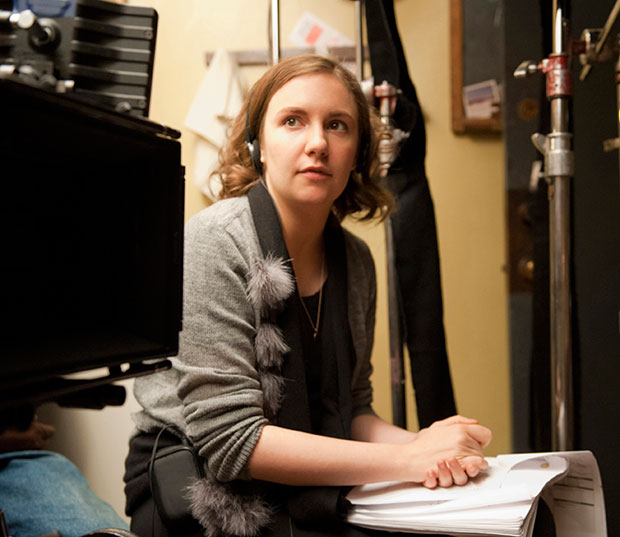 It was reported last week that Lena Dunham was shopping a publishing deal for her developing self-help book, Not That Kind of a Girl, and aiming to sign for no less than $1 million. This figure seemed ambitious for a first-time author – but, it turns out, it's less than a third of what she'd eventually earn. Following Dunham's appearance at this past weekend's New Yorker Festival, The New York Times reports that Dunham has chosen Random House Publishing to produce her book, and that the transaction would be affording the author $3.5 million.
Though it's not unheard of for celebrity writers to boast comparable rates, Dunham is still a pretty impressive case. The 26-year-old's widespread fame really only dates back to the spring of this year; furthermore, despite its critical acclaim and multiple Emmy nominations, Dunham's HBO series Girls consistently achieves relatively mild ratings.
One case that will earn inevitable comparison to Dunham's is that of Tina Fey, who published Bossypants in 2011. Both are works of autobiographical nonfiction with a humorous slant, penned by strong creative female voices in television and first-time authors — and both seem to be almost automatically likened to the works of Nora Ephron (Dunham's by Random House itself in a statement to the Times, and Fey's by The New York Post during the initial report). The difference between them is that upon the publication of her book, Fey had already been an established figure in show business for over a decade (first breaking out thanks to her co-anchor position on Saturday Night Live's "Weekend Update" segment). Fey earned approximately $5 million in her book deal.
With a forthcoming second season of Girls and Emmy nods in categories including writing, directing, and acting, Random House seems interested in attaching itself to Dunham's brand at the dawn of a very obvious rise. Yes, $3.5 million is a good deal more than most first-time authors might call for, but Dunham's rate of ascension is considerably more rapid than some of her other authorial peers: Fey, Mindy Kaling, Kathy Griffin all earned great fame over time, but Dunham has proven to be a pop culture phenomenon just a few months after breaching the public's awareness. With this velocity, her second book deal is bound to put $3.5 million to shame.
The complete title of Dunham's book is Not That Kind of a Girl: A Young Woman Tells You What She's Learned and, according to the Times, Dunham's proposal for the versatile work includes chapter descriptions that range from, "An account of some radically and hilariously inappropriate ways I have been treated at work/by professionals because of my age and gender," to, "How to dress for a business meeting and other hard-earned fashion lessons from the size 10 who went to the Met Ball."
[Photo Credit: Jojo Whilden/HBO]
More:
What Louis C.K. Said to Lena Dunham at the Emmys & 12 Other New Yorker Fest Highlights
Beyoncé Joins Jay-Z on Stage During New York Concert — VIDEOS
Facebook and Chairs: What Other Objects Is It Like? — VIDEO
From Our Partners:

Mila Kunis Goes Topless for Esquire Cover, Crowned Sexiest Woman Alive — PHOTOS
(Celebuzz)