Who the F?: Marc Maron's Best WTF Interviews with People You've Never Heard Of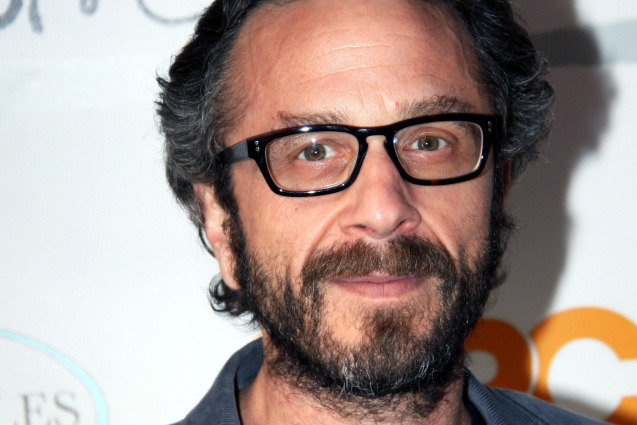 Flashpoint / WENN
WTF with Marc Maron is pretty much the best podcast ever: the freewheeling conversations between Marc and his guests are almost always fascinating, especially when they reveal hidden facets of famous celebrities you thought you already knew. But there's another cool element to WTF, when Marc's guest is someone you've never heard of who turns out to be a talented and interesting person. Here's five examples of WTF episodes (all of them from the last 50 shows, which means they're still available free on iTunes) featuring interesting talks with names you might not recognize.
Curt Kirkwood (episode 428, September 30, 2013)
The leader of '80s college radio heroes The Meat Puppets, Curt Kirkwood is, as Maron puts it, the only WTF guest ever to survive a plane crash. The remarkable thing is that that's not actually the most interesting anecdote the Arizona rocker offers during this wide-ranging chat.
Hunt Sales (episode 423, September 12, 2013)
Drummer Hunt Sales hits two of Maron's obsessions, '70s rock and old-school TV comedians. Alongside his bass-playing brother Tony, Sales played with Iggy Pop, Todd Rundgren and David Bowie (in the ill-fated Tin Machine), among many others. But the brothers' dad was groundbreaking TV comic Soupy Sales, whose '60s TV shows were among the first to treat kids like adults.
Danny Lobell (episode 398, June 17, 2013)
Danny Lobell pioneered the interviews-with-comedians podcast idea that Maron perfected. But the bulk of his interview consists of a discussion of how Lobell's religious life as an observant Jew colors his comedy, and anecdotes about his personal friendships with old-school comedians like Jackie Mason and George Carlin during his days as a struggling upstart.
Phil Hendrie (episode 393, May 30, 2013)
If you never heard Phil Hendrie's old AM radio show, you missed out on the best long-form radio comedian since the late great Jean Shepherd. Armed with nothing more than a couple of mics and a mixing board, Hendrie used to improvise surreal call-in shows with outlandish guests and outraged callers, with all voices done by him, alone and in real time. It was amazing. Hendrie talks about those days and more in a conversation all radio fans will find fascinating.
Sam Simon (episode 389, May 16, 2013)
Sam Simon co-created The Simpsons, along with working a number of other TV classics. Recorded shortly after Simon announced that he has terminal cancer, this emotional but often hilarious conversation touches on the breadth of Simon's career and the philosophical aspects of life and death. It's one of the most empathetic and powerful episodes of the show so far.
More:
Alec Baldwin Promises He'll Be Insane on New MSNBC Show
Welcome Back, Michael J. Fox!
New HBO Teaser is Hilariously Gross
---
From Our Partners:


40 Most Revealing See-Through Red Carpet Looks (Vh1)


15 Stars Share Secrets of their Sex Lives (Celebuzz)