Is Lorne Michaels Masterminding the Feud Between Miley Cyrus and Sinead O'Connor?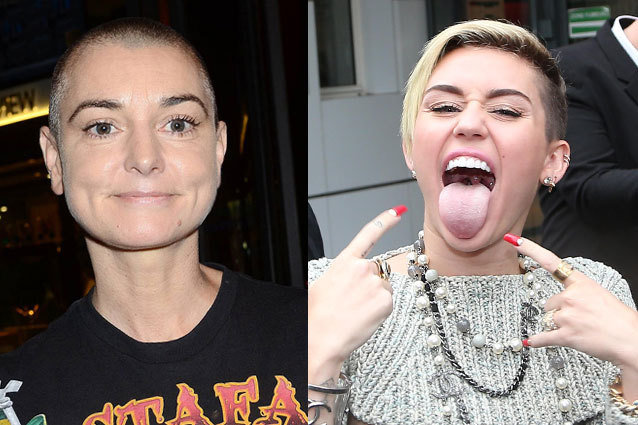 Wenn; Splash News
We haven't heard much in the way of Sinead O'Connor in the past decade. Her name still inspires recollection of the 1992 Saturday Night Live performance that saw her tear up a photograph of then-active Pope John Paul II while singing the line "Fight the real enemy" during a rendition of her popular number "War." Over 20 years and half a dozen albums later and O'Connor is still unable to escape the looming shadow of this '92 controversy.
But is this just the converged potencies of nostalgia and celebrity scandals? Or is there something foul going on behind the curtains?
O'Connor's name is bound to come up in the same conversation as Saturday Night Live again this weekend, but for an entirely different reason. On Saturday, Miley Cyrus will take to the Studio 8H stage, hosting the variety program following a ganglion of her own volatile buzz — the lasting result of her VMAs performance and every bit of public attention she has received thereafter. This week in particular, Cyrus found herself the focus of an open letter penned by none other than O'Connor, who pointed out the error in the young music artist's conduct. After a hostile response by Cyrus, O'Connor was driven to lashing out with a more decided venom, providing those adhered to the gossip headlines a feud more than worthy of replacing the newly dissipated enmity between Drake and Chris Brown.
But the timing is interesting. Miley's VMAs performance took place at the end of August. Her "Wrecking Ball" video came out in early September. Why then, on Oct. 2, would O'Connor first decide to write an essay expressing to Cyrus the criminal behaviors of the music industry and pleading with her to distance herself from their grasp? Because this week is Cyrus' Saturday Night Live gig.
Thanks to the buzz-factor of the 20-year-old host, there are bound to be a handful of viewers tuning into this weekend's broadcast of the NBC tentpole. Not to see her music, not to see her comedy, but to see her shenanigans. To see what crazy stunt she'll pull next. And artists of integrity though they may be, it would behoove the minds behind SNL to make sure that Miley doesn't disappoint. That's why SNL top banana Lorne Michaels is calling in the big guns: O'Connor, whose papal debacle was the most brazen, talk-worthy thing to come out of the show since that first utterance of "Jane, you ignorant slut."
Perhaps Michaels has masterminded this O'Connor/Cyrus feud in order to recreate the same high-profile controversy his show saw back in '92 —  Miley ripping a photo of Sinead, of Madonna (who lambasted the performance one week later) taking Cyrus' side, or perhaps of O'Connor herself showing up to proverbially duke it out with the youthful twerker in the second hour of the show.
And as for O'Connor, maybe this is her chance to be free, once and for all, from these connotations. To pass the torch to Miley — to allow her to claim the title of "that girl who did that crazy thing on SNL that time." And Miley… well, we're sure she's in no way averse to this additional spike in buzz. So it's a win-win-win for Miley, Sinead, and good ol' Lorne.
Oh, Lorne. You dog, you.
More:
Watch Miley Cyrus' 'SNL' Promo
Miley Cyrus Needs to Collaborate with Kanye West
Miley Cyrus Broke Up with Liam Hemsworth for Sexting
Follow @Michael Arbeiter
| Follow @Hollywood_com
---
From Our Partners:


A Complete History Of Twerking (1993-2013) (Vh1)


15 Stars Share Secrets of their Sex Lives (Celebuzz)