No Doubt Apologizes for Offensive Video Depiction of Native Americans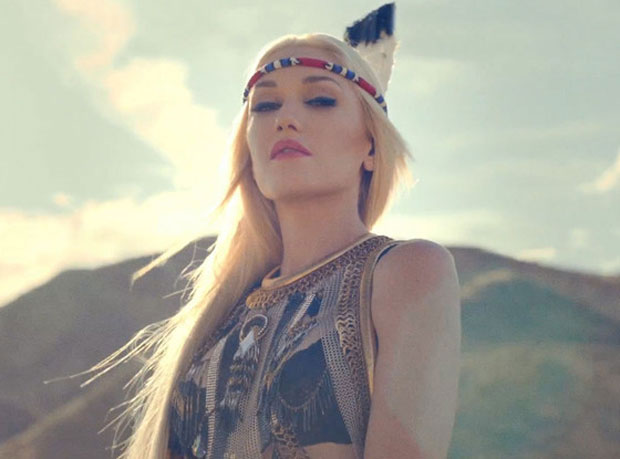 Ruh roh, No Doubt is in trouble (with a capital T and that rhymes with P and that stands for Politically Correct!). After releasing the music video for their single "Looking Hot" on Saturday, the band got some major flack for including what some viewers felt were racist images of Native Americans. In the video, which has now been taken offline (but stills of which can still be seen on E!'s website), Gwen Stefani and her band are depicted wearing Native American garb and fighting cowboys. In addition to removing their video from the Internet, No Doubt posted an apology note on their website. They said, As a multi-racial band our foundation is built upon both diversity and consideration for other cultures. Our intention with our new video was never to offend, hurt or trivialize Native American people, their culture or their history.   Although we consulted with Native American friends and Native American studies experts at the University of California, we realize now that we have offended people.  This is of great concern to us and we are removing the video immediately.  The music that inspired us when we started the band, and the community of friends, family, and fans that surrounds us was built upon respect, unity and inclusiveness.  We sincerely apologize to the Native American community and anyone else offended by this video.  Being hurtful to anyone is simply not who we are.No Doubt is undoubtedly (ha!) not the first to anger their fans with a video that is deemed racist. Here are a bevy of other music videos that outraged viewers upon their release.
Florence and the Machine's "No Light, No Light"
Viewers and publications, such as Jezebel, called Florence and the Machine's depiction of Voodoo as a primitive witchcraft as racist. Jezebel said the video "feels like colonialism-promoting propaganda."
Madonna's "Like a Prayer"
Madonna caused an uproar by casting a black man to play Jesus in her 1989 video. Everyone from Pepsi to the Vatican had an opinion.
The Vapor's "Turning Japanese"
While people continue to debate the meaning behind the 1980 hit by British rock band The Vapors (is it really about masturbation?), it's clear that something is a little off about the video and lyrics. Guitarist Rob Kemp says, "It's a love song about somebody who had lost their girlfriend and was going slowly crazy, turning Japanese." So, why exactly is going crazy synonymous with turning Japanese? Something must be getting lost in translation.
Michael Jackson's "They Don't Care About Us"
The New York Times slammed Jackson for using antisemitic slurs in his 1995 song "They Don't Care About Us." Jackson responded by saying his vocabulary was chosen deliberately to highlight the pain of discrimination. Even so, he issued a public apology and rerecorded the song with new lyrics (changing "Jew me" to "do me" and "kike me" to "strike me").
Follow Abbey Stone on Twitter @abbeystone
More:
Green Day, No Doubt, and Other '90s Alums: A Musical Report Card
Kristen Bell and Dax Shepard Expecting Their First Child
Top 5 Moments from the 2012 CMA Awards

Katy Perry Moves Forward at Barack Obama Rally in Wisconsin (PHOTOS)
(Celebuzz)