15 Reasons Why Anna Kendrick is Our Spirit Animal
We all know Anna Kendrick is crazy talented — she can act, she can sing, and she can bust a move like no other — but her true talent lies in being just like us: she says what we're all thinking. She keeps it real and she's not afraid to be who she is. Here are all the reasons why she is officially our spirit animal.
1. She knows going out can be overrated.
astrologyexplained.tumblr.com
Anna, can we please hang out? I'll bring the snacks!
2. She loves Lord of The Rings… like, a lot.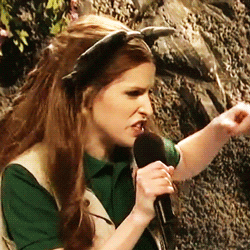 giphy
Anna told The Huffington Post that she loves the series so much she has an annual marathon of the extended editions. Our inner middle schooler loves her for this.
3. She's silly even when posing topless for GQ.

Instagram
She tweeted: "I would just like to remind everyone of the reality of the situation."
4. She doesn't want glamorous photos to freak us normal girls out.

youtube.com
5. She's sick of sexism in Hollywood, too.


myownarea.tumblr.com 
She told Glamour magazine that often times, female roles are discussed well after male actors are cast. "There's [a film I'm considering] now where I have to wait for all the male roles to be cast before I can even become a part of the conversation," she said. "Part of me gets that. [But] part of me is like, 'What the f—? You have to cast for females based on who's cast as males?'"
6. She fangirled when she met Beyoncé.

yunuen.tumblr.com
In her defense, who WOULDN'T? It's Beyoncé.
7. In fact, she's all about her many girl crushes.

becaefinmitchell.tumblr.com
8. She really likes Taco Bell.

letsfindthatsilverlining.tumblr.com
Don't we all?
9. She likes food in general.

youtube.com
Mind blown.
10. Social situations can make us all a bit crazy.

anna-kendrick.tumblr.com
11. And problems with the opposite sex plague her, too.

comediva.tumblr.com
12. Her Twitter game is on point.

@annakendrick47
13. She's a fan of a well-placed four letter word.

micdotcom.tumblr.com
14. She'd be a great girlfriend.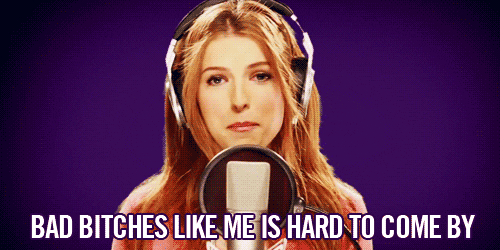 giphy
Truer words were never spoken.
15. When times get tough, she has the BEST life advice.

becaefinmitchell.tumblr.com
…Basically, Anna Kendrick is all of us.

just-a-little-old-fashioned-love.tumblr.com