Remembering Robin Williams: 21 Roles That Made Us Love Him
The world lost one of its greatest actors this week. Many of us grew up with Robin Williams as a firm presence in our lives that could make us laugh. He brought our families together every time we sat down to watch one of his films. He was the voice of Genie in Aladdin. He brought a board game to life in Jumanji. He was an inspiration in Dead Poet's Society. Every role he portrayed, he encompassed that character so passionately, it's hard to believe one man could be so versatile. In no way is this list comprehensive, because William's career was so magnanimous, it cannot be broken down into which films were his best. He was a legend, with such a gift that all of his roles could be argued to be his best.
1. Mork, Mork and Mindy
retrogasm.tumblr.com
An alien comes to earth to study its inhabitants. The plot is absolutely out there, but Robin Williams embraces this character wholeheartedly in this Happy Days spinoff.  He brings Mork to life in a quirky, sweet way that we will see more of during his career. This television role was one of his first big exposures to an audience and he was well received.
2. Popeye, Popeye
Popeye is one of the first forays where viewers got to see Williams carrying different voices and traits using physical comedy to deliver them. He embodied this classic sailor so realistically, you could see it in the way that he walked and the way that he talked. Even his facial expressions were so meticulously detailed, you couldn't second guess this casting choice. Williams was Popeye.
3. Adrian Cronauer, Good Morning, Vietnam
arelliah.tumblr.com
A movie set in Saigon, 1965, during the Vietnam War, Williams plays a radio DJ on Armed Forces Radio Service, who is wildly popular with the troops, but not his superiors. It's a story loosely based on the experiences of AFRS radio DJ Adrian Cronauer. What made this film a genuine Robin Williams piece was his take on the character. Almost all of his radio broadcasts were ad-libbed. Like this amazing bit, "Goooooooooood-byyyyeeeeee Vietnaaaaaam! That's right, I'm history…I'm outta here! I got the lucky ticket home, baby. Rollin, rollin, rollin'…keep them wagons rollin', rawhide!"
4. John Keating, Dead Poets Society
crushable.com
A film set at the conservative Welton Academy in 1959, John Keating is a teacher that inspires his otherwise uninterested students with the use of poetry. Unlike earlier roles, such as Mork or Popeye, Williams didn't use physical comedy to take up the screen. His passion, which viewers could see in every role he took on, was what carried this film. His delivery truly made us want to seize the day, because he was so believable in that philosophy. He made us want to stand up on our desks and chant, "O' captain, my captain!:"
5. Dr. Malcolm Sayer, Awakenings
somewhereinaburstofglory.tumblr.com
While Awakenings certainly was not Williams's first serious role, this film sticks out more because of his chemistry with those around him. William's plays Dr. Malcolm Sayer, based on real-life British neurologist Oliver Sacks. In 1969, Sayer discovers beneficial effects of the new drug, L-Dopa, which he administers to his catatonic patients. It's incredible to watch Williams take on this character, who is so invested in his patient's health and quality of life, that it's heartwarming to watch.
6. Peter Pan/Peter Banning, Hook
laylamillermadrox.tumblr.com
Only an actor as talented and candid as Williams could manage to handle playing a grown-up Peter Pan. We're introduced to Peter, a lawyer who is drifting from his wife and children because of his dedication to his work. It's a wonderful display of character development to watch Peter, who has forgotten his childhood, something he never wanted to let go of, reclaim his youth and learn about life's biggest adventures.
7. Leslie Zevo, Toys
jungle-honey.tumblr.com
Toys wasn't big at the box office, despite producing a world-class cast. Williams plays the son of a toy manufacture that falls ill and leaves the company to his uncle, a military man with no interest in building toys. Williams's character Leslie is appalled when his uncle begins manufacturing war toys. As a child watching this movie, it was so engaging to watch Williams, who might not have seemed responsible enough to handle the company, take action to save it. He's passionate, silly, and the unsung hero we wanted to succeed.
8. Genie, Aladdin
fydisneymisfits.tumblr.com/GIPHY
In Aladdin, William's is the genie that the title character stumbles upon. Williams was able to take this 2-dimensial character and make him larger than life. He stole every scene he was in, making him the most memorable character from the film (sorry Aladdin and Jasmine). He was completely right, we've never had a friend like him.
9. Daniel Hillard/Mrs. Doubtfire, Mrs. Doubtfire
whatshouldbetchescallme.tumblr.com/GIPHY
After a bitter divorce, Daniel Hillard, a talented, but jobless voice actor, is determined to still spend time with his kids. When he finds out his ex-wife is going to hire a housekeeper to help with the children, he uses his skills to pretend to be a Scottish nanny. You only need to see this movie once to remember what Williams sounded like as Mrs. Doubtfire, "Hellooo!"What could have been a ridiculous excuse at dressing up in drag, is actually a very humorous movie that touches on what the life of both parents, and children, are like in a divorce.
10. Alan Parrish, Jumanji
Of all of William's work, Jumanji has remained my personal favorite. The story of a boy, sucked into a board game, sounded like a plot only children could enjoy. But, as an adult, it's more rewarding to watch Williams return to his world, years after being stuck in the jungle of the game, and have him grappling with issues we all do. Unlike some of his other work, Alan Parrish is not boisterous character that William's could use his wild antics to portray. It's almost like watching Robin Williams's growing up, seeing him act like a child in an adult's body while slowly maturing and realizing what he is responsible for.
11. Armand Goldman, The Birdcage
The American take on La Cage aux Folles, features Williams playing a gay man, pretending to be straight for the sake of his son's engagement. Nathan Lane gets the flashier of the two roles in this movie, but it's impossible to not acknowledge Williams's straight-laced performance in this piece.
12. Jack Powell, Jack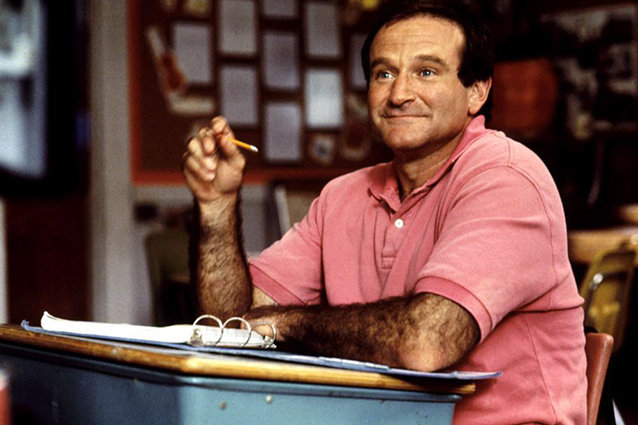 Buena Vista Pictures
Jack is a boy who ages 4x faster than the average kid, so at 10 he looks like is physically 40. A mix between comedy and melodrama, this idea sounds as bad out loud as it does on paper. But Williams manages to endear us in a way only he seems capable of, showing us the trouble Jack faces with a sweet earnestly that made viewers love this film, even if critics did not.
13. Professor Philip Brainard, Flubber
missymalice.tumblr.com
Flubber is a movie meant for children, but easily enjoyed by parents as well because of Williams. He plays the absent-minded Professor Philip Brainard, who discovers flubber. Critically, it was not his best film, by a long shot, but William's personality matches the super-bouncy substance of Flubber, without letting the CGI-created element take over the film.
14. Sean Maguire, Good Will Hunting
collection-of-gifs.tumblr.com/GIPHY
Williams showed us he had the ability to combine tough love with a no nonsense kind of attitude. As psychologist Sean Maguire, he was able to help lead a brilliant man the right direction in his life. Williams ability to provide raw emotions is what landed him his first, and only, Oscar win (though he's deserved the accolade countless times over his career).
15. Patch Adams, Patch Adams
damondoctorlokisherlock.tumblr.com
After committing himself to a mental institution, Patch Adams finds a purpose in life and applies to medical school. The film follows as Williams fights to make connections with his patients, using laughter as a form of healing. As viewers, we got to see William's dedication to the belief that laughter is one of the best forms of medicine.
16. Andrew Martin, Bicentennial Man
gunstothemax.tumblr.com
A sci-fi film where Williams portrays a robot, this movie held a lot of promise. It gets muddled down with semantics and plots too focused on scientific aspects of extended life, but Williams's heart as a robot searching for humanity is what kept this movie afloat.
17. Seymour Parrish, One Hour Photo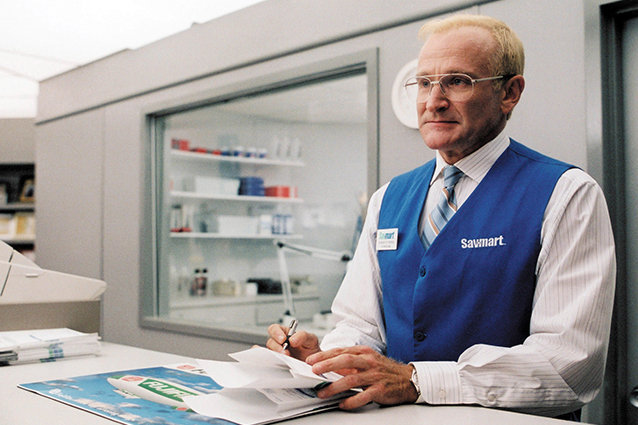 20th Century Fox Film via Everett Collection
For those of us who were so used to Williams' legendary comedic roles, it was jarring to watch a film like One Hour Photo. Seymour Parrish was not your usual over-the-top Williams performance. It's chilling to watch an almost unrecognizable Williams, bleached blonde and tight-lipped, transform into this obsessive human being, fixated on the perfect family and life. This film is a testament to Williams acting range.
18. Bob Munro, RV
themusingsofacurlyhairednerd.tumblr.com
As Bob Munro, younger viewers got a sense for what it would be like if Robin William's was really your dad. We all might have loved Mrs. Doubtfire, but realistically, your dad isn't going to dress up and be your new nanny. This portrayal, so simple and silly, is what highlights that Robin Williams was quite obviously a dad, and like other fathers, has traits that everyone can attach themselves to and love him for.
19. Ramon/Lovelace, Happy Feet & Happy Feet 2
spinerak.tumblr.com
It's a movie about talking – and dancing and singing – penguins, why wouldn't Robin Williams be in it? Let alone, why wouldn't he voice 2 important characters? As Lovelace, Williams practically jumps off the screen at viewers, as a hilariously fat, wise older penguin with a penchantspouting wisdoms that actually make no sense. It's entirely believable, not surprisingly, that if Robin Williams had been a penguin, that would be him. On the other hand, Ramon highlights Williams's ability to nail an accent, and become a smooth talking penguin. 
20. Maxwell "Wizard" Wallace, August Rush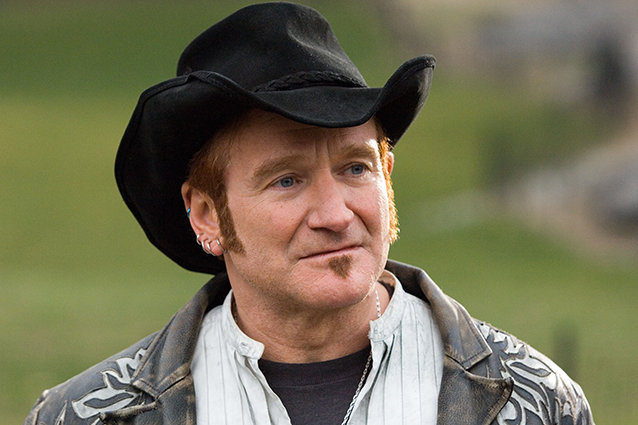 Warner Bros. Pictures via Everett Collection
It's strange seeing Williams as one of the bad guys, but he pulls off the part so well. As the "Wizard," he takes in vagrant, homeless children with a gift for music and pawns them off as street performers. When one of his children finds a musical prodigy, he immediately begins to work with him and sees him as an opportunity for money, trying to promote him to different clubs. It's a bit refreshing to get a sense of Williams's funny attitude, but not have him be the hero in this. You know an actor is talented when you love them, but you're rooting against them the entire time.
21. Teddy Roosevelt, Night at the Museum, Night At The Museum: Battle of the Smithsonian, and Night at the Museum: Secret of the Tomb (To be released later this year)
tobiasfuckineaton.tumblr.com
tobiasfuckineaton.tumblr.com
One of his most successful films financially, this is also one of his more silly ones. It holds the classic Williams's trait is to make it silly enough to make you laugh, but not so silly that it becomes nonsensical. Williams plays a statue of Teddy Roosevelt, yes the 26th President of the United States of America, that comes to life at night to protect the museum he is in. Williams's demeanor captures us as an audience, making us love him and the famous president, as well his back and forth banter with co-star Ben Stiller. 
There are so many more films and television appearances that were all remarkable. He was an actor that was completely unparalleled in his style, talent, and passion. He cannot be replaced, and no one would ever dare try that, but he can be remembered by all the wonderful things that he has said and done. He will truly be missed, by those of us who fell in love with him as Alan Parrish in Jumanji, or those of us who were around to first witness him as Mork on Mork and Mindy. May we never forget his immense talent and all the adventures he took us on.
openyoureyestothebeautyaround.tumblr.com
openyoureyestothebeautyaround.tumblr.com