Sara Gilbert Says She Was Gay While Dating Co-Star Johnny Galecki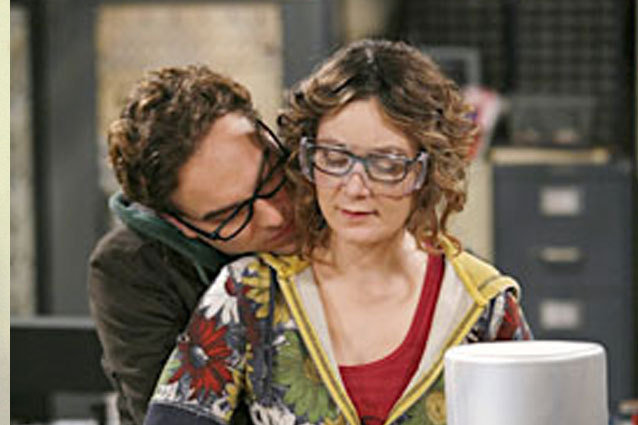 2007 Warner Bros. Television All Rights Reserved
When The Talk decided to have a "secret" themed week, I doubt they were prepared for the kind of secrets that were revealed. Aisha Tyler broke hearts when she exposed her struggle with infertility while Sharon Osbourne grossed everyone out when she revealed her fling with Jay Leno. Then, Julie Chen outraged audiences when she explained that she had to have plastic surgery to make it as a broadcast journalist. However, even after all of these major revelations, no one was prepared for Sara Gilbert's admission: She realized she way gay while dating Roseanne co-star Johnny Galecki. 
Before Gilbert and Galecki starred as a couple on The Big Bang Theory, they played a couple on the popular '90s show Roseanne. While filming Roseanne, Galecki and Gilbert also started dating in real life. However, Gilbert realized during this time that she wasn't attracted to Galecki and explains, "I thought he was super cute and had a total crush on him and we started dating and he would come over and we would make out and then I would start to get depressed." When she felt that Galecki started "taking it personally" she revealed to him that she was gay. His reaction? "He was super sweet about it." 
For years, Gilbert, along with Galecki, kept her secret. During the filming of Roseanne, Gilbert says she "started dating a woman who was like 18 years older… who was also in the public eye." She goes on to say, "It was something people could have found out about. Like no one knew at the show for years, and Johnny held the secret the whole time. And I always felt so scared. If it came out, what could happen? Could I lose my career? Will I ever be able to play a straight role again?" 
While Gilbert still struggles with discussing her sexuality, she says, "I have an amazing life, but I want people to know that there can still be a struggle with it, and that's OK. There can be a part of you that doesn't want to feel different or feel scared." 
After spending years guarding her secret, Galecki and Gilbert are still friends. In fact, she contacted him before going on The Talk and asked him, "Is it okay? I'm thinking of talking about this. The story starts with you." Galecki replied, "Of course. I love you, and I think it's really important. And I'm so proud of you … If you want, I will be there, and I will hold your hand." 
Well, if this isn't the cutest friendship in the history of friendships, I don't know what is.
More:
'Big Bang Theory' Star Jim Parsons Acknowledges He's Gay
Sara Gilbert Announces Surprise Engagement 
Cuoco 'Almost Killed' Castmate Galecki
---
From Our Partners:


A Complete History Of Twerking (1993-2013) (Vh1)


15 Stars Share Secrets of their Sex Lives (Celebuzz)