Geek Out: Sir Ian McKellen to Officiate Sir Patrick Stewart's Wedding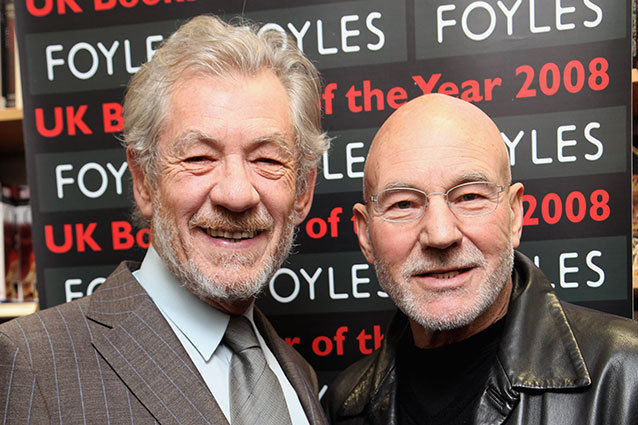 During a visit to the U.K. talk show The Jonathan Ross Show, Sir Ian McKellen made a very important announcement about some X-Men: Days Of Future Past casting. Well, sort of. As it turns out, the thespian will be playing the role of wedding officiant for his co-star and good friend Sir Patrick Stewart's upcoming real-life nuptials to jazz singer Sunny Ozell. "I'm going to marry Patrick," McKellen said to the sounds of laughter from the audience, quickly adding, "How else do you put that? I'm going to officiate at his wedding."
While McKellen won't be wearing his Gandalf robe (bummer), he did say he'd be wearing something he "bought in India that was rather fetching. You mustn't upstage the bride." Good man.
RELATED: Sir Ian McKellen Reveals He is Battling Prostate Cancer
McKellen is no stranger to being a master of ceremonies at weddings (the actor revealed on the show that he once presided over "two guys having a civil partnership. I was crying my eyes out") and Stewart is no stranger to weddings either (this will mark his third marriage) but the two can rely on their X-Men flicks to help them out with their big speeches. 
RELATED: 'X-Men: Days of Future Past' Director Teases Professor X's, Young and Old
Using some choice lines from their respective characters Magneto and Professor X from X-Men, X2, and X-Men: The Last Stand, we came up with some words of wisdom either Stewart or McKellen can use on the big day. Try not to get all misty-eyed on us: 
"Magnificent, isn't she? /Give me a chance. I might be able to help you find some answers. I'm looking for hope… I will bring you hope, old friend…" (1)
"You are a god among insects. Never let anyone tell you different." (2) 
"Do you remember when we first met? Do you know what I saw when I looked at you?… And you're here because I need you… I only know that great sacrifice will be required." (3)
[KEY – 1: X-Men; 2: X2; 3: X-Men: Last Stand]
RELATED: 'X-Men Days of Future Past: A Returning Face and Two New Ones Join the Cast 
But  if that doesn't work out, we recommend Stewart sing his vows:
Also, we couldn't help but wonder: instead of a groom's side and bride's side, will this blessed event be split up by humans and mutants? Either way, our nerd hearts are fluttering with joy over this story. 
[Photo credit: Tim Whitby/Getty Images] 
---
You Might Also Like:


15 Oscar-Winning Nude Scenes


Young Jack Black Is Totally Unrecognizable