Taylor Swift Needs Some Vine Pointers: 6 Celebs to Show Her How It's Done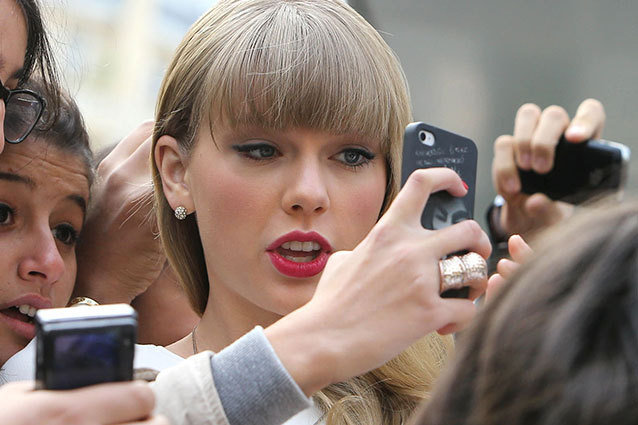 On Wednesday night, Taylor Swift joined the world of Vine. Her very first video? A few seconds of the country pop starlet sitting on the couch, watching Titanic with her cat Meredith, along with the caption: "At 9pm, I'm either on stage or I'm doing this."
We hate to say this, but to be perfectly honest, it was a little lame… But fear not, TSwift! Many of your fellow celebs are Vine pros. Here are some of our favorites, please do take notes. 
Darren Criss
The Glee star has some hilarious Vines, from his days on the show's set to his time on the road with pal Theo Katzman.
Sorry had to have some fun first. Q&A about to start. Tweet Q's with #darrencrisslistenup https://t.co/a1Vez6hMNR

— Darren Criss (@DarrenCriss) May 29, 2013
Weeeeeee a Paris or should I say Ooouuuiiiii https://t.co/WZeSG0MjPc

— Darren Criss (@DarrenCriss) June 20, 2013

Tyra Banks
Tyra Banks is notorious for her crazy Vines, which mostly consist of the America's Next Top Model host goofing off and doing some entertaining celebrity impressions.
Modern TyraLy http://t.co/0W8zqSMGqX

— Tyra Banks (@tyrabanks) March 8, 2013
Snoop Dogg (Snoop Lion?)
With 60 uploads to date, Snoop Dogg/Lion is a Vine addict. The rapper has attracted particular attention for the many videos in which he smokes some seriously giant blunts.
The truth n the lion ! https://t.co/ckLvJ0Rf4M

— Snoop Dogg (@SnoopDogg) April 19, 2013
Kate Upton
Whether she's celebrating SuperBowl Sunday or freezing in a bikini at a winter commercial shoot, Kate Upton always seems to be having a great time on Vine.
Oh look heaters! http://t.co/tNglFdTn

— Kate Upton (@KateUpton) February 8, 2013
Harry Styles
Harry Styles may have broken Taylor Swift's heart, but he certainly could give her a few Vine lessons. The One Direction superstar uses the app to showcase his backstage antics and the general pandemonium of the group's world tour.
BRUSHING TEETH MATE. https://t.co/qTj0Mn0hVD

— Harry Styles (@Harry_Styles) June 15, 2013
Verona. I love you. https://t.co/8akeKptfPR

— Harry Styles (@Harry_Styles) May 19, 2013
Maisie Williams
And last but most certainly not least, we couldn't possibly forget the epically hilarious Vines from Game of Thrones' Maisie Williams. Her Red Wedding reaction video helped to pull us out of our GOT depression.
*spoiler ep9* https://t.co/7fvyQekQpi

— Maisie Williams (@Maisie_Williams) June 3, 2013
So there you have it: a sampling of six-second gems from the celebrity Vine world. Then again, 14002 people have already liked Taylor Swift's vegging-out Vine so… maybe she's onto something. 
Follow Caroline on Twitter @carolinesb | Follow Hollywood.com on Twitter @Hollywood_com
More:
Maisie Williams, Arya Stark on 'Game of Thrones,' Is a Vine Champ
Creator of Hilarious Feminist Taylor Swift Twitter Also Behind Cosmarxpolitan Tumblr
YouTube Thinks Taylor Swift's Lyrics Are Absolute Nonsense 
---
From Our Partners


Stars Pose Naked for 'Allure' (Celebuzz)


20 Grisliest TV Deaths of 2012-2013 (Vulture)