The 10 Most Controversial 'Real Housewives' Ever
Back in 2006, the first season of The Real Housewives of Orange County premiered on Bravo and reality TV hasn't been quite the same since. Each city and group of Housewives is a bit different, but they all have two things in common: big diamonds and bigger drama. The series has made bona fide superstars out of many of the women, who have gone on to launch empires (Skinnygirl, anyone?!) and make plenty of headlines in the process. For most, the show is a guilty pleasure, and everyone has a Housewife (or two!) they love to hate. With new franchises cropping up in new cities every year, fans eagerly await the drama to come. These are the most controversial Housewives… so far, in no particular order.
1. Aviva Drescher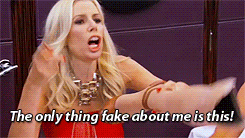 Oh, Aviva. When she joined the RHONY cast for season 5, she wasn't quick to make friends among her fellow cast members, who didn't seem to care for her erratic and often times mean-spirited personality. She had a prosthetic leg, which she loved to remind everyone about, but her falcon moment came when she launched the leg at a fancy French restaurant. She was fired from the show after two seasons, and clearly didn't have a leg up on the other NYC ladies… I'll see myself out with that bad pun.
2. Vicki Gunvalson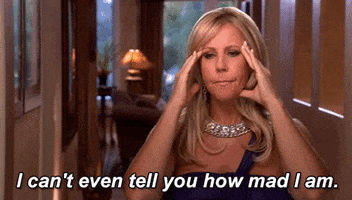 Vicki is definitely a pot stirrer, and her blunt, no-nonsense personality doesn't often win her many fans, but it was her ex Brooks Ayers's cancer debacle that places her on the list. It appears that Brooks lied about having cancer, and though both parties vehemently deny that Vicki was complicit in the lies, it still left a bad taste in the mouths of RHOC viewers. Sorry, girl.
3. Brandi Glanville
Brandi's antics possibly, kinda sorta got her fired from RHOBH, though she's never quite gone away and still appears on the show from time to time. She knows how to play the game and admits to stirring up trouble to make for good TV. Brandi has started many fights, thrown a glass of wine and actually slapped cast members on her show, and she's a big fan of heavy drinking and foul language, which definitely doesn't sit well with some prim and proper Beverly Hills ladies. Brandi claims she doesn't care what people think, but she's simply not very believable in that regard.
4. Ramona Singer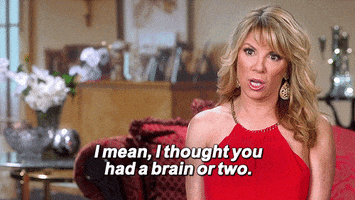 Ramona is a Real Housewives veteran, having been part of the New York City cast for eight seasons now, which makes her one of the only Housewives to appear on every season of the show. She's an entrepreneur and has plenty of personal drama to bring to the show, making her simultaneously a fan favorite and a total trainwreck. She never goes anywhere without her Pinot Grigio, and she's not one to be messed with.
5. Sonja Morgan
Sonja and Ramona are the definition of 'frenemies' and they bond over a glass of wine, but also have plenty of sparring moments, too. Sonja has done everything from from claiming to be friendly with John F. Kennedy Jr. to breaking a tooth on the dance floor, and she's consistently entertaining. She spins some very tangled webs, and is often fueled by alcohol.. which shouldn't surprise anyone.
6. Michaele Salahi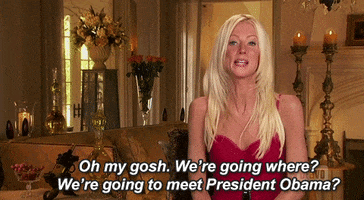 Michaele has the honor of being the only Housewife (so far) to actually get the show pulled off the air. The RHODC lasted only one season, thanks to Salahi and then-husband Tareq crashing a White House state dinner in 2009. Despite only appearing on the series for one season, this party crashing has launched her among the ranks of the most hated Housewives ever.
7. Danielle Staub
Though Housewives and controversy go hand in hand, Danielle's two seasons on the show are by far some of the most notorious. Her antics caused Teresa to flip a table, for crying out loud (more on that later…) and she's since become a RH legend. During her time on RHONJ, Danielle revealed she was allegedly a former prostitute, had been engaged 19 times to 19 different men, and brought bodyguards with her every time she was around the other ladies. She was paranoid and mentally unstable, and subsequently, swiftly fired from the show. Buh bye!
8. Teresa Giudice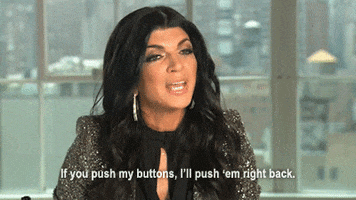 Teresa and Danielle were like oil and water, but that's only the tipping point of the Teresa drama scale… as she proved when she took her anger with Danielle out on a poor dinner table. Her loud personality and inability to tolerate bullshit of any kind are nothing new for a Housewife, but it's her personal dramas that make her so controversial: she and her husband have remained in the tabloids for pleading guilty to bankruptcy fraud, mail fraud, tax evasion, and a slew of other charges following a 41+ count indictment. She spent nearly a year behind bars, while her husband has a longer sentence and faces deportation to his native Italy. Fans either love Teresa or hate her — there's honestly no in between, which makes for the most iconic and controversial Real Housewives moments.
9. Tamra Barney Judge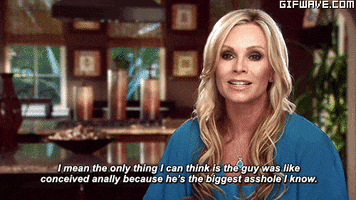 If the Real Housewives franchise were Mean Girls, Tamra would be the Regina George. She fights with everybody, and has no qualms about shutting her enemies right down. She's generally known as a big 'ol bully, which makes viewers want to grab the popcorn, and other Housewives want to run for the hills. Can you blame them?!
10. Basically, ANY of the Atlanta ladies
Picking from the Atlanta Housewives was honestly too difficult. There are so many polarizing personalities… from Kim Zolciak, Kenya Moore, Porsha Williams, NeNe Leakes, and beyond, these Georgia peaches have brought so much over-the-top drama that it's simply impossible to choose one. These ladies bring drama in spades, and they're truly the core of what makes the franchise so fascinating. People love to hate them, and the ladies in Atlanta embody the catty, outlandish, and opulent lifestyles that make viewers both cringe and keep tuning in week after week. Remember ladies: don't be tardy for the party. After all, it's just not a party without you!