Sibling Rivalry: Celebrity Brothers & Sisters Sharing the Spotlight
Michael Kovac/WireImage
Talent often runs in the family — just ask the Jacksons (maybe not LaToya) — and so it comes as no surprise that many celebrities also have siblings who share their aspirations in entertainment. While some successfully strike out on their own like Solange Knowles, others stay perpetually in the shadows of their sibling's success. So what new faces have recently emerged from some famous family trees?
Briana Cuoco
The little sis of the The Big Bang Theory star Kaley Cuoco recently made headlines after she won her audition for The Voice. The aspiring singer was currently working as Cuoco's personal assistant, but given the tears Kaley shed during the audition, the two are clearly close. Briana has also made bit appearances on The Mentalist and The Big Bang Theory thanks to her family connection, but we'll have to wait and see if she can survive on The Voice on her own musical merit.
Ashley Horn
In the ultimate case of Single White Female, Lindsay Lohan's half-sister has recently clawed her way into the media spotlight after it was revealed she underwent plastic surgery five times to resemble her sister. The formerly fresh-faced 18 year-old now resembles more a sad Cabbage Patch kid than her famous sibling. As if this family wasn't dysfunctional enough, Horn only recently learned of her status as the love child of Michael Lohan after he took a paternity test on a daytime talk show in 2012. Something tells us Lohan didn't do a victory dance
Sandra Vergara
Sharing the same surname and bewitching beauty as her famous sister, Sofia Vergara, this up and coming actress has already cemented her sex-symbol status by appearing on the cover of Maxim. While technically not Sofia's biological sister, Sandra is her first cousin and was adopted by Sofia's parents when she was a month old. While she won't be appearing on Pepsi billboards anytime soon, Sandra has landed small rolls on CSI: Miami, the film Fright Night and a recurring role in The Bold and the Beautiful.
Gemma Styles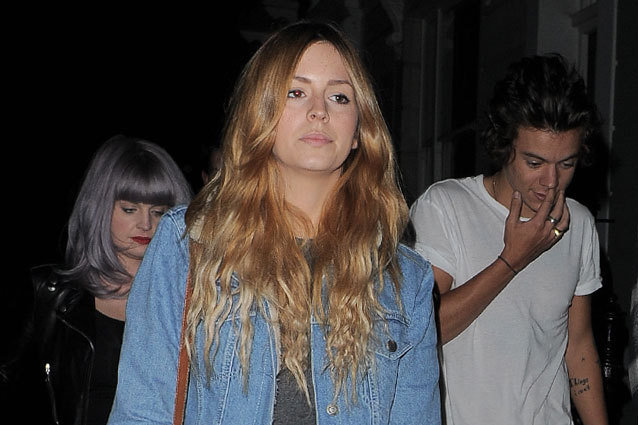 WENN
It's often the younger sibling who wants to follow in their famous brother or sister's footsteps, but for Gemma Styles (older sister of One Direction's Harry Styles) — she was a late bloomer. Gemma shares her brother's passion for music and allegedly already has a demo in the bag with an album soon to follow. Her brother is very supportive and the two share a close relationship (he does have her name tattooed on his arm). Plus it doesn't hurt to have a built-in, rabid fan base at your disposal.
Alex Watson
True sibling rivalry is when you share a Burberry modeling campaign, play a friendly game of polo in the English countryside and calorie-count your biscuits together. Well, the first part is true for Alex Watson, the smoldering hot and professional model brother of Emma Watson. He pals around with Malfoy, walks the red carpet and looks sexy with his hair pushed back — he's already well on his way to continuing the family tradition.
More:
Celebrity Relatives Cashing In On Hotness
Celebrity Parents Gone Wild
Hollywood's Most Famous Brothers and Sisters
---
From Our Partners:


40 Most Revealing See-Through Red Carpet Looks (Vh1)


15 Stars Share Secrets of their Sex Lives (Celebuzz)