10 Memorable Moments From The 68th Emmy Awards
The 2016 Emmy Awards (or The One Where Ross From Friends Almost Won An Emmy) honor TV's grandest shows and greatest stars. Per usual, we saw some valiant victories, serious snubs, and far-fetched fashion. Here are the top 10 most memorable moments of the night!

1. James Corden opened the Emmys with a round of Carpool Karaoke.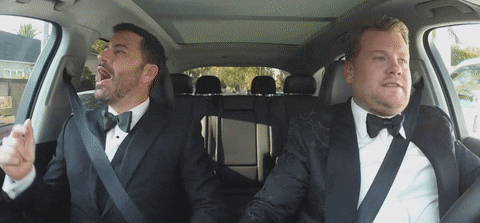 As a staple of 2016 television, it's only fitting that Corden opened the Emmy Awards right–by picking up host Jimmy Kimmel for a little sing-along sesh (oh yeah, Jeb Bush was there too).
2. Drogon (the gargantuan dragon from Game of Thrones) set Ryan Seacrest ablaze.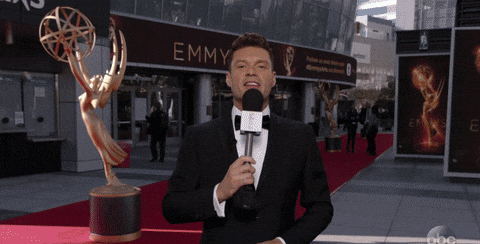 No opening would be complete without something completely outrageous. This year, it was Kimmel hitching a ride with Kahleesi in order to make it to the ceremony on time. Poor Ryan just happened to be in the line of fire.
3. Maggie Smith broke the "Maggie Smith rule".

Apparently, the Downton Abbey actress has never been in attendance during any of her Emmy wins, and last night continued that trend. Whatever. We still love Dame Maggie Smith.
4. There was actual diversity.

This year's running joke may have been '"diversity'" but it was also actually a thing. Master of None writer Alan Yang's acceptance speech touched on breaking down racial stereotypes, while Jeffrey Tambor shed light on embracing the transgender community in TV.
5. The kids from Stranger Things pass out PB&J!

Hey, we certainly couldn't go three hours without snack-time. Fortunately for the guests of the Emmys, a mid-ceremony treat was provided. The adorable cast of the popular Netflix show came to the rescue (dressed as their characters and riding bikes, no less) to pass out delicious sack lunch sammies. Yum.
6. Sarah Paulson took home her first Emmy win during her sixth nomination.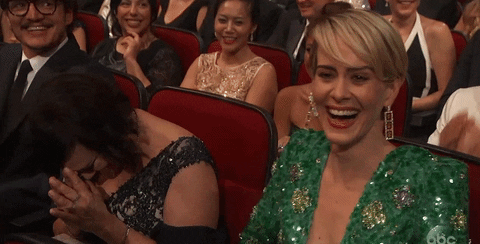 It was finally Paulson's time to shine when she received recognition for Best Actress in a Limited Series. Though known for her roles on American Horror Story, Paulson won for her performance in The People vs. O.J. Simpson: American Crime Story.
7. Tina Fey and Amy Poehler shared an award (literally).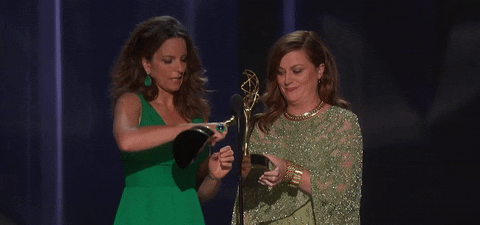 Okay, anytime these two share the stage, you know we're in for a treat. This year, they defied all norms and shared a win in the Comedy Guest Actress department. Really. They "half thanked" people and sported "half trophies" during their time as presenters.
8. Matt Damon crashed the Emmys.

What better way to "crash" an award show than interrupting Jimmy Kimmel while nonchalantly eating an apple? We don't know.
9. As always, In Memoriam honored TV's greatest losses.

Prince, Gene Wilder, Alan Rickman, David Bowie, Garry Marshall and Muhammad Ali were just a few names mentioned at the evening's tribute to those in TV who have passed.
10. Game of Thrones won Best Drama & Veep won Best Comedy–again.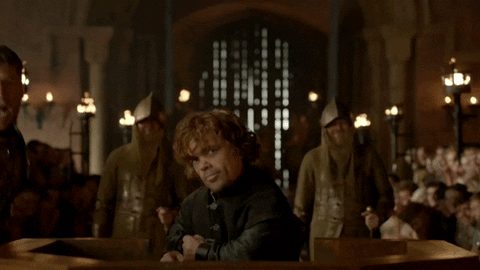 Hey, remember when this happened last year? We do too.