5 Possible Explanations Behind the Jonas Brothers 'Creative Rift'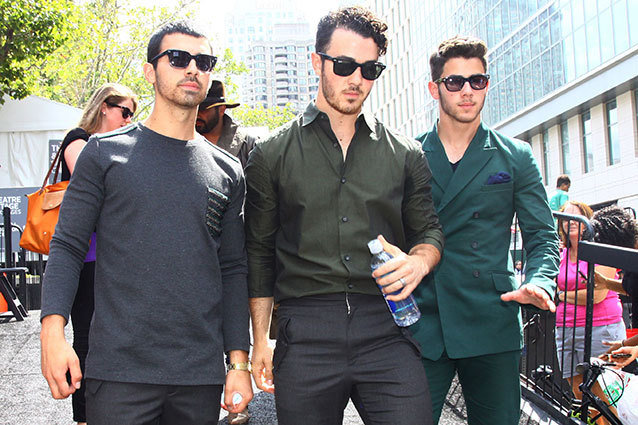 Michael Carpenter/WENN
The Jonas Brothers broke tween hearts Thursday morning when they announced the cancelation of their upcoming tour. Due to "a creative rift," the band called off the tour, which was set to start tomorrow, Oct. 11. The band's rep continued to disappoint fans when he said the future of the Jonas Brothers "remains to be seen." So, as the world wonders what will happen to their favorite boy band, we're thinking up 5 possible reasons the JoBros may be headed toward a break-up.
1) Nick Jonas wants to be a body builder.
Nick got a lot of attention when he posted shirtless in an Instagram photo showing off his buff and toned chest. Now, Nick could be addicted to weight training and would rather spend his time attempting to turn himself into Arnold Schwarzenegger circa 1968 than belting out teen-friendly lyrics. The cancelation of the tour could be just one more step that Nick needed to take in order to become the professional body builder he really wants to be. 
2) Joe Jonas still loves Taylor Swift.
If Joe recently came to the realization that he still loves T. Swift, it probably resulted in him spending his days listening to "You Belong with Me" on repeat and crying into his microphone. Perhaps his persistant comments about how amazing Swift is started annoying the other bros. Nick and Kevin probably had to cancel the tour just to get away from the constant Taylor talk.  
3) Kevin Jonas is having triplets.
While a source close to the couple has said the tour cancellation is not due to the upcoming birth of the couple's first child, it could be due to the upcoming birth of the couple's second and third children, which are also in production at this time (we suspect). Maybe Kevin just found out about the additonal two kids and is having panic attacks thinking about the three tiny singing babies that are sure to pop out. He probably can't write any new songs with that kind of stress.
4) Nick wants to have an intervention for ex Miley Cyrus.
Remember the days when the cute Disney duo got together and shared a beautiful six month relationship? No? Well Nick probably does. Now, Nick sees what has happened to the Miley he knew and loved (she turned into a twerking bear/nudist for those of you who missed the VMAs) and wants to intervene to get her into a psych facility, so he bowed out of the tour so he could help her. 
5) Kevin's wife Danielle has turned into Yoko Ono.
Maybe the cute and bubbly Danielle the world sees on Married to Jonas is just an act, and she's actually a conniving mastermind that can break up bands and ruin families. Perhaps Danielle just wants Kevin to turn into a suburban New Jersey dad, and feels she can only do that by dismantling the JoBros. (Yes, if this turns out to be true, we are going to be so impressed with Danielle's devious mind.)
Basically, the band could be headed towards a breakup for any number of reasons (most likely not any of the reasons above). But, for the sake of screaming 13-year-olds everywhere, we hope these brothers can work out their differences and continue making their annoyingly catchy music. Until then, here's a video of the first ever JoBros performance that is guaranteed to make us feel old… and maybe a bit nostalgic.