Adele at Oscars: Mixed Feelings Abound Over 'Skyfall' Performance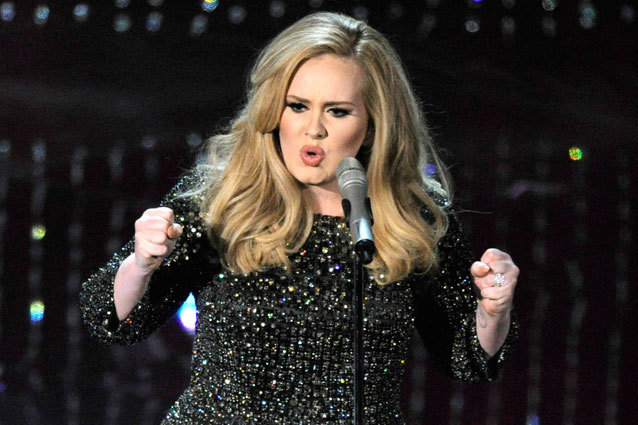 You waited, you anticipated, and you were prepared to be bowled over by the goddess-like presence of Academy Award winner (feels good to say, doesn't it?) Adele at Sunday night's Oscars. What could go wrong? After all, reports from rehearsals were good and Adele is technically a superhuman given her Head Queen Goddess Boss Lady status. But sometimes, the pieces of the puzzle don't fall into place, and you're left wanting just a little bit more. We hate to say it, but somehow Adele was not living in the higher plane of existence during her Oscar performance. Which isn't to say that she was bad, at all. (She's perfect so there's no such thing as bad in her world.) 
In her first televised performance since giving birth to her child, Adele belted out Skyfall's title track to the excitement of many. But from the second she stepped out on that Oscar stage (introduced by America's other favorite no-filter queen, Jennifer Lawrence), the emotional rollercoaster we were ready to board was not ready for us. The mix seemed to overpower Adele — an impressive feat considering the strength the singer holds in her incredible vocal chords — and she seemed visibly frustrated through the entirety. (The issue continued for the other Best Song nominee performance, Norah Jones.)
RELATED: Oscars Musical Tribute: Better The Second Time Around?
Or perhaps it was her dress — I mean, between that and the shoes, homegirl was wearing all of the sparkles. All of them. Something that originally made Adele quite nervous. On the red carpet, she quipped to ABC that "My dress weighs 15 kilos. It's so heavy!" Could the weight of her dress be not only weighing on her mind, but her diaphragm, causing breath support issues? Or is it just a simple case of stage fright? Something Adele has been quite open about suffering from for a long time.
Adele remained a trooper regardless, and still managed to impress vocally. Though some may have found her performance slightly less emotional and impassioned than the bursting-at-the-seams rendition of Goldfinger performed by Shirley Bassey, we're still going to go ahead and say she nailed it overall. Not every performance is going to have the perfect heart-rendering, soul-destroying feel of every song off 21, you guys.
RELATED: Shirley Bassey Does Goldfinger in 2013 Exactly Like Goldfinger in 1964
What did you think of the performance? Like it? Love it? Underwhelmed? Sound off in the comments!
Follow Alicia on Twitter @alicialutes
[Photo Credit: Chris Pizzello/Invision/AP Photo]
---
Oscars 2013 Special Coverage
---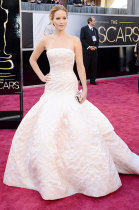 Oscars 2013 Red Carpet Arrivals: PICS!
• Anne Hathaway: Oscar's Worst Dressed?
• 15 Oscar-Winning Nude Scenes
• Seth MacFarlane's Opening: How'd He Do?
• Oscar's Problem With Pretty Boys
• What Happened to Renee Zellweger's Face?
• Oscars 2013: The Full Winners List
• The Winner, According to You