'Aladdin' Musical Broadway-Bound in 2014: It's a Whole New World!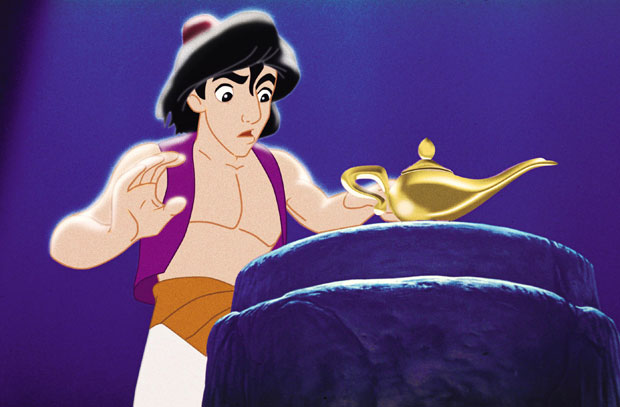 Disney's Aladdin is getting a new fantastic point of view: from the Broadway stage, starting in 2014. A full-length musical version of the hit animated movie is scheduled to take up residency at the New Amsterdam Theatre in spring of next year.
Other versions of the musical have been staged over the years, but this will be a brand-new script with an entire full-length musical's worth of songs. Before you start squawking like Iago, movie purists, please exhale a sigh of relief: All five songs from the movie — "Arabian Nights," "Friend Like Me," "One Jump Ahead," "Prince Ali," and "A Whole New World" — will be included in the stage show.
According to a press release, the new, two-act musical will feature music by Alan Menken; lyrics by the late Howard Ashman, Tim Rice, and Chad Begueiln, and a book by Begueiln. The Broadway show will be directed and choreographed by Casey Nicholaw, and will run previews in Toronto from November 2013 to January 2014.
In case you're in the mood to feel old today, we're here to remind you that Aladdin opened more than 20 years ago. The 1992 hit grossed more than $500 million worldwide, and that's not even taking inflation into account. It also won an Oscar for Best Original Score and another for Best Original Song ("A Whole New World," duh).
Because you're going to have these songs stuck in your head for the next three days anyway, here are the five (amazing) songs from the (best) '90s Disney hit.
Follow Jean on Twitter @hijean
[PHOTO CREDIT: Disney]
More:
'Aladdin': The Jokes We Didn't Get 20 Years Ago
Stage Fright Wrecked Salma Hayek's 'Aladdin' Debut
'Les Miserables' Breaks Christmas Box Office Records
---
You Might Also Like:

Who Wore This Crazy Hat?

Stars Who Changed Their Look