Amanda Bynes Has Been Dropped by Her Publicist — REPORT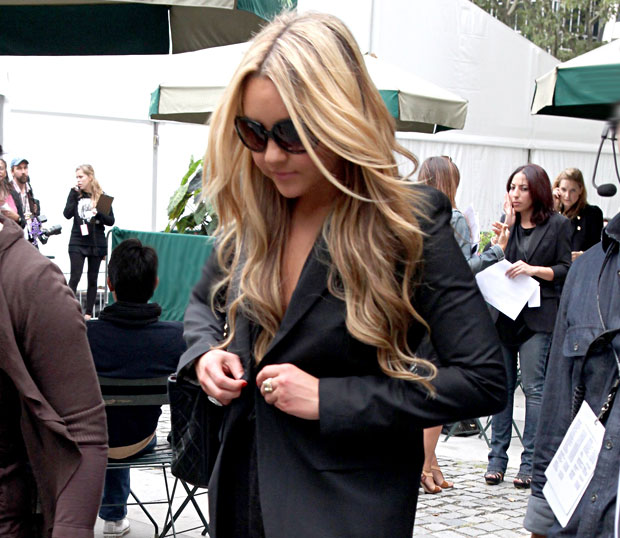 Following her string of headline-making (hit-and-)run-ins with the police, Amanda Bynes has another problem to deal with: looking for new representation. TMZ reports that her publicist, agent, and entertainment lawyer have all three dropped her as a client within the past few weeks. According to a TMZ source, Bynes started as a "dream client" — but the website suggests that she has become increasingly difficult over the past year. Her team has been unable to reach her for the past month, and Bynes has rebuffed all attempts they have made to help her get her life back under control.
Bynes, however, fails to acknowledge the trouble she's in. In a statement given to People on Wednesday, Bynes said, "I am doing amazing." She followed up by saying, "I am retired as an actor. I am moving to New York to launch my career. I am going to do a fashion line." Does Bynes think now that she is finished with acting she doesn't need an agent? It's unclear how she plans to build a fashion business from the ground up without the help of a publicist?
Publicists, agents, and managers are used to handling crises — it is their job, after all, to spin all press into good press — so it's rare that an entire team will jump ship at once. It is not, however, unprecedented. But recent examples include clients who are a little bit more, let's say, extreme.
Mel Gibson: Gibson hadn't been what one would call stable since his 2006 arrest and drunken, anti-Semitic tirade. However, it wasn't until July of 2010 that Gibson's agency, William Morris Endeavor Entertainment, dropped him from their roster of celebrity clients. WME cited Gibson's use of a racial slur as the cause of his termination.
Charlie Sheen: We all know that 2011 wasn't a great year for Charlie Sheen (what with the drugs and porn stars and tiger's blood and all), and in February his longtime publicist, Stan Rosenfield, decided to separate from Sheen. "I have worked with Charlie Sheen for a long time and care about him very much," Rosenfield said in a statement. "However, at this time, I'm unable to work effectively as his publicist and have respectfully resigned."
Chris Brown: Brown was in hot water with the media and most of America (the portion of the country, at least, that has a brain and a heart), after assaulting girlfriend Rihanna in 2009. And then his publicist, Tammy Brook, decided to drop Brown after his outburst on Good Morning America in 2010. She claimed her leaving had nothing to do with the incident, and was instead the result of a finished contract.
When watching Bynes on All That and The Amanda Show in the 1990s and early 2000s, did you ever think that she would come to have things in common with some of Hollywood's most notoriously unstable figures? Even if Bynes has retired from acting, building a career in the fashion industry (as she hopes to do) requires a lot of time in the public eye. In order to advance her career, she needs to figure out a way to revamp her image, and get herself out of a boat that contains the likes of Gibson, Sheen, and Brown. Which may be hard to do without a publicist…
Follow Abbey Stone on Twitter @abbeystone
[Photo Credit: WENN]
More:
Amanda Bynes: 'I Don't Drink and Drive'
Amanda Bynes Finally Loses Her Car to the Impound Lot
In Light of Recent Events, Celebrities Required to Take An Additional Driving Test
From Our Partners:

Blake Lively, Avril Lavigne, Kate Hudson: Guess the Celebrity Engagement Ring — GALLERY
(Celebuzz)

(Celebuzz)