Amanda Bynes Loses Her Crazy Barbie Wig in New Mug Shot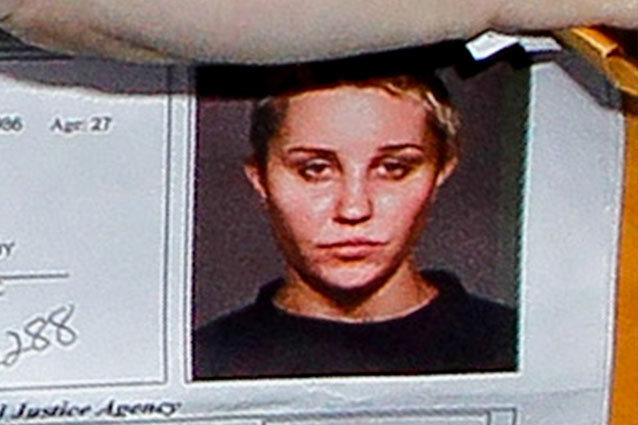 Did you guys hear the latest about Amanda Bynes? Late Thursday night, Bynes was arrested for pot, so she threw a bong out of her 36th story window — but the fun doesn't stop there! We at Hollywood.com have the newest updates on Bynes' court appearance Friday morning, and a rare look at the girl beneath the wig.
As you can see above, we've nabbed Bynes' official mug shot from this most recent arrest. This time, she opted to forgo the Easter egg purple hairdo. Instead, the All That actress was forced remove her signature platinum locks and unveil the shaved head that we've only heard rumors of in her Twitter rants. There were no duck faces or sour candy freakouts in this glimpse of Bynes… she just kind of looks like a sad crazy little panda.
Now let's move along to the amazing picture of Bynes in court…
Bynes recently pleaded no contest to charges of driving on a suspended license and was sentenced to three years of probation. So when Bynes was sent to court Friday morning, many assumed that she would be in all kind of trouble. However, it looks like Bynes was about to fib her way out of handcuffs.
TMZ reports that the retired actress told the judge that she did not, in fact, throw a bong out of the 36th story window — instead Bynes claimed it was "just a vase." The judge, clearly mesmerized by her ridiculously huge Barbie wig, decided to let Bynes go without bail. He did, however, warn her that if she misses her court date in July, an arrest warrant will be issued.
Follow Leanne on Twitter @LeanneAguilera | Follow Hollywood.com on Twitter @hollywood_com
More:
Amanda Bynes Got Arrested For Pot, So She Threw A Bong Out Of Her 36th Story Window
Amanda Bynes Gets 3 Years Probation For Plea Deal
Amanda Bynes And Exotic Dancer Blac Chyna Are The Same
---
From Our Partners


Stars Pose Naked for 'Allure' (Celebuzz)


Which Game of Thrones Actor Looks Least Like His Character? (Vulture)