Andy Cohen and Jill Zarin at War Over "Secret Recording"?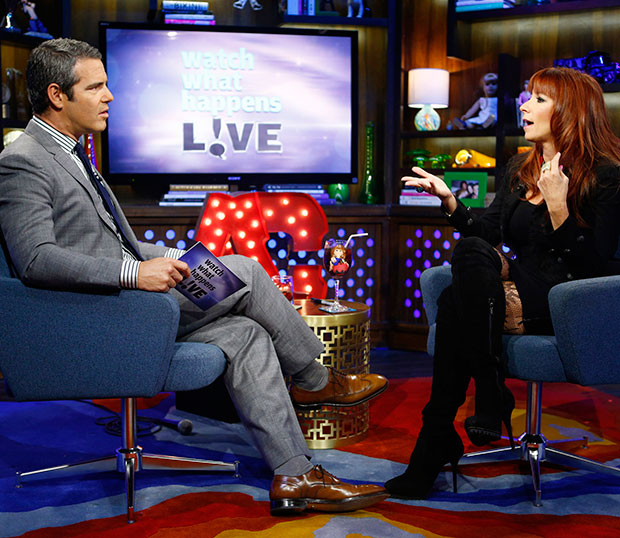 Remember when Jill Zarin hit Andy Cohen's Clubhouse wearing a Christmas ornament around her neck and demanded to know why OH WHY she got axed from The Real Housewives of New York? Remember when Andy responded in the most vague way possible? And remember how the entire rest of the interview consisted of Jill Zarin talking about herself and her stuff and her social media followers and how everyone in the world stops to ask her about Bobby's health and all the wonderful things going on in her fabric store? The 30-minute segment was jam-packed with Jill's Long Island twang — and for the most part, it seemed civil. But little did we know that behind the scenes, something shady was going on. And now Andy is not happy. He hasn't been this peeved since the time Teresa Giudice shoved his delicate frame on a reunion episode. 
So, Jill Zarin has apparently gone and done the most demented thing ever. Ever. Even more demented than the time she went to Morocco and walked around with snakes on her head bragging about her snakeskin shoes. Anyway, turns out the people she hired Jill's fans recorded the interview on an iPhone for her "protection."
According to an interview with Page Six, the former Housewife explained that the reasoning behind the taping was, "to make sure I remembered what I said, and that what I said was accurately edited." Of course, interviews gets cut down for time — unless you're the Real Housewives of New Jersey, in which case you get three hour-long reunions and a lost footage episode — but Jill Zarin needed to be sure the network wasn't going to screw her over, or something. And this morning, she and Andy Cohen played a little game called "Let's be passive aggressive on Twitter." Here's their exchange:

Zarin haters are having a field day with this one, chiming into the Twitter conversation: "she is so the stalker type to clip Andy or bethennys hair and keep it on a shrine LOL." Even Caroline Manzo got her two cents in (of course she did): "those housewives, they're a rough bunch…. xo."
But seriously. Really now. You'd think if Jill Zarin wanted back on The Housewives, or at least back in Bravo's good graces, she wouldn't go ahead and stage a sneak attack like this! But then again, nothing she does is all that surprising anymore. Not after that peplum dress.
[Image Credit: Peter Kramer/Bravo]
Follow Anna on Twitter @thebrandedgirl
More:
'Real Housewives of New York' Recap: The Resurrection of Jill Zarin
Real Housewives in Real Life: A Chat About 'The Queen of Versailles'
AMC Considering Andy Cohen-Inspired Talk Show For Their Hit Dramas
From Our Partners: