Andy Griffith: Remembering 'Matlock,' Andy Taylor, and More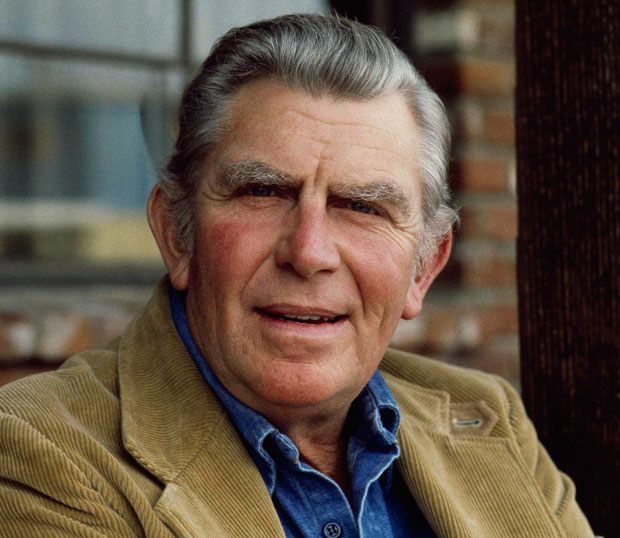 On Tuesday, TV legend Andy Griffith died of natural causes at the age of 86. While the actor's famous friends and co-stars publicly mourn the beloved Griffith on Twitter, fans of the late actor are left to remember some of his finest contributions on television and in film. And he has plenty of fans here at Hollywood.com — below, read some of our staff's favorite Andy Griffith moments, and pay tribute to the actor yourself in the comments below.   
Michael Arbeiter
: The "Mr. McBeevee" episode of 
The Andy Griffith Show
 might be one of the most hard-hitting depictions of a father-son relationship that I've ever seen on television. When he suspected his son Opie (Ron Howard, before he started telling stories of a wealthy family who lost everything) of making up lies about a "man who lived in the trees" (it turned out to be an electrician working on power lines), Andy Taylor was at first amused. Then frustrated. And eventually, when it seemed like Opie was so caught up in his lie that he couldn't detach himself from it, Sheriff Taylor was emotionally distraught, and angry. Andy Griffith brought his character to a point that fans hadn't seen prior: threatening his son with beatings if he didn't fess up. But the great actor managed to sell the performance with so much pain and confliction that anyone watching wouldn't vilify him. Of course, he could not bring himself to hit his son, cementing just how strong a relationship the Taylor men had. A tear jerker like no other.
Matt Patches: As a young kid, I was slightly aware of Griffith's contributions to the world of television, but my first real taste of the man's talents came from an unlikely source: 1996's Spy Hard. The absurdist comedy pit two fantastic actors, the Shakespearean-trained Leslie Nielsen and the nicer-than-nice Griffith, against each other in a spy adventure ripped straight from the James Bond playbook. Fearlessness is key when tackling a wickedly funny role, and Griffith's willingness to "go there" may never be represented quite like it was when he strapped on plastic arms to chase Agent WD-40 around with an axe.
Aly Semigran: Being a hardcore Simpsons fan, I can't help but associate Griffith's classic Matlock with being the beloved program of choice for Abe Simpson and his fellow residents at the old folks home. While I'll occasionally find myself singing along to "We love you, Matlock, oh yes we do" with all the gusto of someone 85-years-old and up, I think my favorite thing about the reference is it showed how much Griffith could cross so many generations. Sure, he may have been geared to the older set, but younger pop culture enthusiasts like myself had to appreciate the talent and impact he had. We love you Matlock, oh yes we do.
Kate Ward
: Speaking of
Matlock
 appealing to the younger set, I found myself hooked on the series as a pre-teen after spending a week on the sofa, forced to fight a nasty flu. I wasn't quite the target generation for the syndicated legal drama, but Ben Matlock — and a bowl full of Jell-O — was the perfect antidote to any ill feelings. The Southern gentleman was warm and cozy, with a voice more soothing than any cough drop on the market. It wasn't long until I built up my strength
and
my obsession with the series. Even when I returned to school, I made sure to tape the daily episodes on VHS, way too excited to come home and watch an episode that was as predictable as the presence of Matlock's banjo. Still, it was a formula that worked — millions of AARP members and sick teenagers like myself can't be wrong. I still hum the
awesome theme song
to fend off colds.   
Kelly Schremph: My mom was absolutely addicted to the TV show Matlock. So, every morning when I was little, I'd wake up to her watching re-runs of the show and I'd sit down and join her. It sort of became like a morning ritual. Who knew Andy could inspire such mother-daughter bonding times?
Lindsey DiMattina: My grandfather always used to try and use Andy's jokes as his own. Let's just say we knew it wasn't his material (Andy did a much better job), but we always laughed anyways to make grandpa feel good about himself.
Brian Marder: It was somewhat shocking to see Griffith pop up in 2007's Waitress -— one of his final roles -— and even more jarring was the against-type performance he gave as a (mis)perceived curmudgeon who secretly had a heart. Fitting, perhaps.
[Image Credit: AP Images]
More:
Remembering Andy Griffith: TV Legend Dies at 86
Roger Ebert, Ron Howard and More Remember Andy Griffith on Twitter