Apple's New iPhone 5: What You Can Expect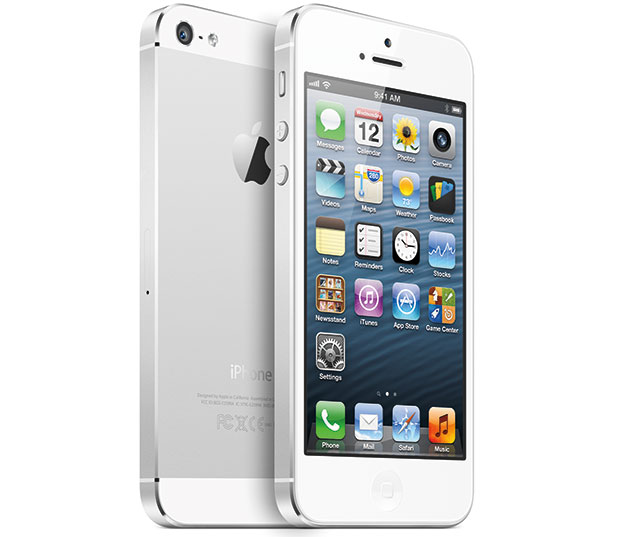 Tech geeks, rejoice! After the widespread disappointment last fall when we learned that the new iPhone would only be the 4S (what, we couldn't make the jump all the way to 5?), Apple has finally announced the release of the iPhone 5. As promised, it boasts a new design and can do some new things. And it's shiny. Which is all I really need to know to decide that I want one now. Anyone with me?
According to CNN, Apple Vice President Philip Schiller introduced the iPhone 5 at the Yerba Buena Center in San Francisco on Wednesday afternoon. "It's an absolute jewel," he said.
Let's get down to the nitty gritty. What makes the new iPhone bigger (literally) and better than before?
– The iPhone 5 is taller and slimmer (it's 7.6 mm thick) than previous models. It is also 20 percent lighter than the iPhone 4S.
– It has a four-inch, 136 x 640 pixel display that will allow you to view five rows of icons at once.
– It will be compatible with 4G LTE wireless networks on carriers including Verizon, AT&T, and Sprint (as well as a number oversea networks).
– It is powered by the A6 chip, a new, smaller, and more potent chip.
– Major changes have been made to the camera and iSight. For those of you who know about technology (unlike me — I like shiny things), here's what CNN says, "The camera now has an 8 megapixel sensor, 3,264 x 2,448 pixel resolution with backside illumination, hybrid IR filter, five-element lens, f2.4 aperture, is 25 percent smaller and can take panoramic photos." In layman's terms, the camera can take better pictures.
– The video camera can now shoot in 1080p HD, and FaceTime works over 3G with iOS 6.
– The iPhone 5 will also have a new dock connector, which is being called "Lightning." To use your old cord (which will from here on out be referred to as "Thunderbolt") Apple will release an adaptor.
– Apple claims the battery will last eight hours during 3G talk time and browsing, 10 hrs for Wi-Fi browsing and video watching, 40 hrs playing music, and 225 hrs on standby.
– Apple also confirmed that they will be replacing Google Maps with its own Maps app — which will be able to provide turn-by-turn navigation.
– Siri has learned how to post on Facebook.
– It will come in black and white.
– The release date is September 21, so mark your calendars!
And did I mention that it's shiny?
Follow Abbey Stone on Twitter @abbeystone
[Photo Credit: Apple]
More:
The iPhone 5 is Almost Here: What We Need from Apple
Apple Is the World: Ashton Kutcher as Steve Jobs, the Founder's Drug History & More
Apple Becomes the Most Valuable Company in the World
From Our Partners:

Bill and Giuliana Rancic Share First Photo of Baby Edward Duke — PHOTO
(Celebuzz)

(Celebuzz)