Beyonce Lip-Synced the National Anthem? Why We're Refusing to Believe It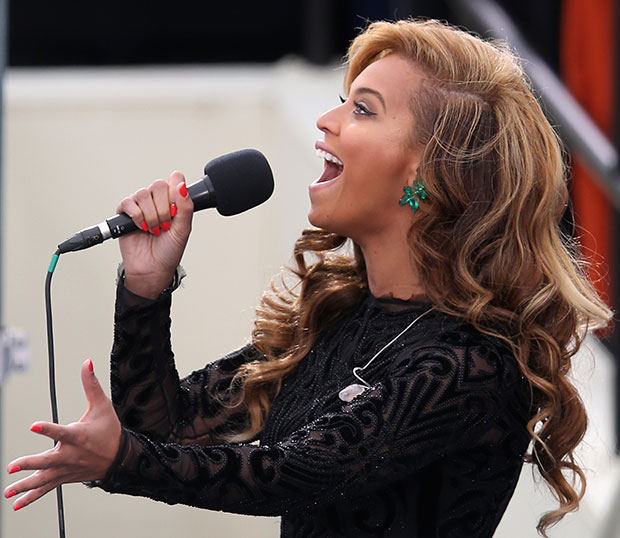 Beyoncé did not lip-sync the national anthem. At least, as far as we're concerned.
The First Lady of pop culture sang "The Star-Spangled Banner" to such perfection during Monday's inauguration celebration in Washington D.C. that it practically made us cry tears of red, white, and blue. It was absolutely flawless, as we knew it would be. Bey can do no wrong. Yet, Tuesday morning, it was reported that Queen B lip-synced her soul-stirring performance and suddenly, it felt like the color was drained from the sky, the grass ceased to grow, and the wind got just a bit colder. Beyoncé's spellbinding performance was a fake?
According to a statement from a Marine Corps band spokesperson, the "music" for the performance was pre-recorded. "We don't know why Beyoncé decided to use prerecorded music … All music [for inaugural ceremonies] is prerecorded as a matter of course, and that's something we've done for years and years. The Marine Band did perform live throughout the ceremony but we received last-minute word that Beyoncé wanted to use the recording," they told the London Times. Furthermore, the Times states, "A spokeswoman for the Marine Corp Band Kristen DuBois said it was standard procedure to record a backing track…"
Now, the Internet has widely accepted this all to mean that Beyoncé wasn't actually singing, but Bey has yet to respond to requests for confirmation. Because we'd like to keep on assuming that the sun is still shining, the birds are still singing, and life is still beautiful, we're choosing to accept the traditional definition of a "backing track," which is pre-recorded studio music to, well, back a singer's performance — not replace the singer's voice altogether.
What's more, is that we seem to be forgetting the spot where Beyoncé ripped the earpiece out of her ear and continued on with the anthem, hitting every word exactly on time. The Hollywood Reporter theorizes that B was able to keep up with the recording without her playback because she had performed the song "so often." And while she may be a singer so fantastic the sheer sound of her voice can make flowers grow, it seems highly unlikely that she's performed "The Star-Spangled Banner," with her chosen flourishes and vocal runs, so many times that she could lip-sync to it exactly on time without at least a little assistance, especially when the sound coming through the mic was undoubtedly on somewhat of a time delay (which is how every sound system in a public area tends to work). It just doesn't add up.
Finally, upon repeated viewings of the video of Beyoncé's performance, the brief blast of breath that escaped when she made "P" and "B" sounds, characteristic of almost any person speaking or singing into a microphone, can be heard throughout the recording. It seems like a lot of effort to either record the song with those imperfections or for Bey to add them in to appear as if she's not lip-syncing.
Still, per the quotes in the Times, popular opinion is that Beyoncé lip-synced to pre-recorded, studio vocals like some sort of perfectly-timed deceptive wizard. But until word comes down from Mount Beyoncé with confirmation of these claims, we, her devoted worshippers, will continue to dismiss their merits. That performance was moving. It was the kind of performance that made you proud to be an American. And the only person we'll allow to take that away from us is Queen B herself. Call us delusional if you must, but just know our reality is far rosier.
UPDATE: Master Sgt. Kristin DuBois, public affairs chief for the United States Marine Band, clarified for NBC News that the pre-recorded track Beyoncé used did include vocals. DuBois added, "Sometimes you just need to do it. Beyoncé is a gifted singer and her decision has no bearing on her musical ability." But the echo! And the earpiece… THE EARPIECE! We hold true to our conspiracy theory until Bey tells us otherwise.
UPDATE II: Vindication! Capt. Gregory A. Wolf, Media Officer for the Marine Band, issued the following statement to Hollywood.com: "The Presidential Inaugural Committee (PIC) requested that the Marine Band accompany Beyonce Knowles-Carter in the performance of the Star-Spangled Banner at the 2013 Inaugural Ceremony. However, there was no opportunity for Ms. Knowles-Carter to rehearse with the Marine Band before the Inauguration so it was determined that a live performance by the band was ill-advised for such a high-profile event. Each piece of music scheduled for performance in the Inauguration is pre-recorded for use in case of freezing temperatures, equipment failure, or extenuating circumstances. Regarding Ms. Knowles-Carter's vocal performance, no one in the Marine Band is in a position to assess whether it was live or pre-recorded."
Follow Kelsea on Twitter @KelseaStahler
[Photo Credit: Getty Images]
More:
Inauguration 2013: Beyoncé, Kelly Clarkson, & More Perform. Who Was Best?
President Obama Says Beyoncéand Jay-Z Are 'Down-To-Earth'
Beyoncé and Jay-Z: The Other First Couple?

Craziest Celebrity Swimsuits Ever (Celebuzz)