Britney Spears Looks Like Her Old Self in Her 'Work, B**ch' Video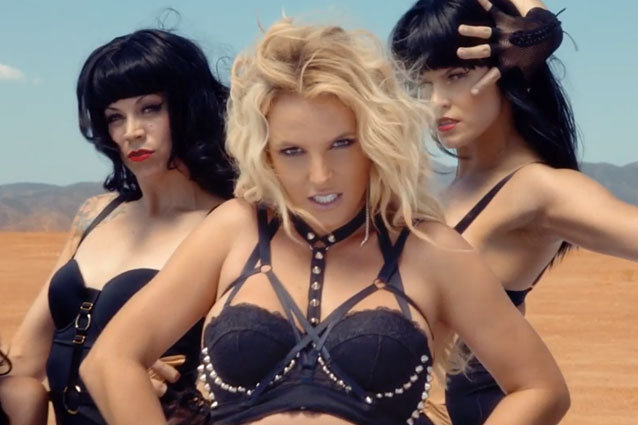 Despite staging her actual comeback in 2008 with Circus, it wasn't until recently that it felt like Britney Spears might actually be returning to her former glory. Nothing showcases that more than the video for her latest single, "Work, B**ch". While the song itself is the kind of generic but annoyingly catchy pop that Spears has made her trademark, there's something remarkable about the video. No, not the scantily clad women on leashes, or the obvious product placement. The most striking thing about the video is that Spears looks better and healthier than she has in years. 
In fact, Spears looks so good that watching "Work, B**ch" feels a bit like watching one of the pop diva's old videos — Spears and her team seem to feel the same way, as the video is full of references to "Classic Britney." Between the "Slave 4 U" dance moves in a pink, "Lucky"-style gown and an outfit and set inspired by "Me Against the Music," it's obvious that this is the comeback that Spears needs in order to once again hold her own on the pop charts. Oh, and did we mention that she's dancing again? She's clearly trying to erase all memories of her awkward "Gimme More" performances by going all out on the choreography. 
Spears' return to form comes at a very important time, as she recently confirmed her upcoming Vegas residency (which is why the video feels like a four-minute ad for the shows). While tickets would probably sell out regardless of what condition Spears is in, but audiences have high standards for her concerts, and exceeding them would be exactly what she needs to finally put all of her bad press behind her. Whatever happens, "Work, B**ch" seems to be working for her, in more ways than one, so maybe this will finally be the Britney Spears comeback that works. 
More: 
Britney's Zillionth Comeback is Going To Be Fierce
Britney Spears 'Works' It In Her New Single Artwork
Will We Ever Stop Obsessing About Britney Spears' Body?
---
From Our Partners:


A Complete History Of Twerking (1993-2013) (Vh1)


15 Stars Share Secrets of their Sex Lives (Celebuzz)