Caption This! Unlikely Pair Lindsay Lohan and Woody Allen Say Cheese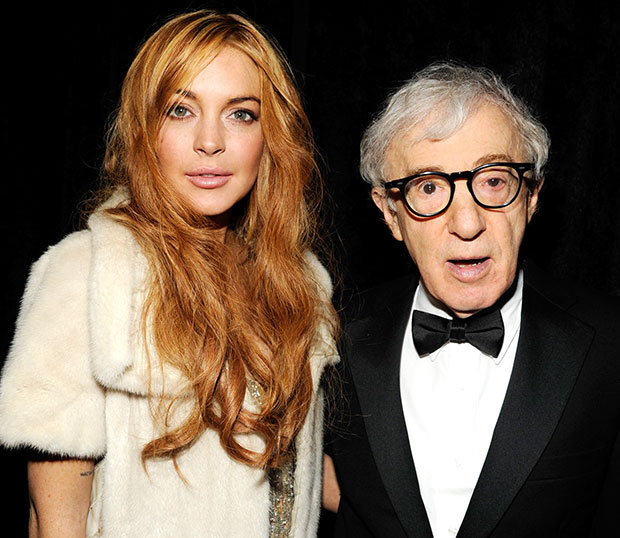 Worlds collided at the amfAR (American Foundation for AIDS Research) New York Gala to Kick Off Fall 2013 Fashion Week at Cipriani Wall Street on Wednesday night when Hollywood's biggest trainwreck Lindsay Lohan was spotted cozying up to one of New York's biggest cynics (and Hollywood's greatest minds) Woody Allen.
Shockingly, the two have been seen together before, most notably last May when they stepped out to dinner on the Upper East Side to, according to the New York Post, "chat about her once-promising career."
RELATED: Lindsay Lohan: 'New York Times' Piece Is the Best Thing That's Happened to Her in Years
But the fact that this is a reunion and not a first-time encounter doesn't make the above photo any less ridiculous. The two just look so… glazed and confused. "What could possibly be going on here?" you ask. Well, we have some caption ideas:
* Woody gives Lindsay sage advice: "Take the Money and Run."
* Now introducing, the star of Crimes and Misdemeanors II: House Arrest.
* In one image, Woody Allen has sequelized Celebrity.
* #TooSoon-yi
* What's Up, Tiger LiLo?
"What if Hannah had another, younger sister? Like, one with a coke problem?" Woody wonders.
* Woody always was a fan of The Parent Trap.
* Lindsay is all, "Danny DeVito! I love your work!"
RELATED: All the Insane Things Lindsay Lohan Did on the Set of Bret Easton Ellis' 'The Canyons'
Have a better caption? Share yours in the comments!
[Photo Credit: Kevin Mazur/WireImage]
---
You Might Also Like:

Who Wore This Crazy Hat?

Stars Who Changed Their Look