'Things Fall Apart' Author Chinua Achebe Dies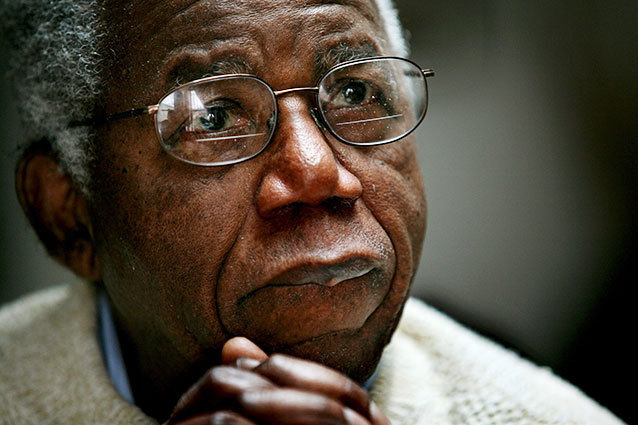 Time to break out a cask of palm wine in remembrance.
Chinua Achebe, author of the high school reading list staple, Things Fall Apart, has died following a short illness, according to a statement from his publisher in London. A sixty-year literary career resulted in him becoming the most widely-read author in Sub-Saharan Africa and a key chronicler of colonialism and its demise for readers in Europe and North America. He was 82.
Born in 1930 in southeastern Nigeria, in what was still a British protectorate, Achebe belonged to the Ibo ethnicity, a group that suffered under British rule and its proxy administrators from other West African cultures. At the age of 28 he published the book that would be his most lasting legacy: Things Fall Apart. It tracks the rise of an Ibo man, Okonkwo, out of deprivation and into prosperity only to find his entire way of life disrupted by the arrival of the British. It was written as a self-conscious rebuke of colonialism and as a celebration of his people's pre-colonial culture.
'Are You Being Served?' Star Frank Thornton Dies: Why He'll Always Be Capt. Peacock
After Okonkwo kills a British flunky and commits suicide, an administrator for the Empire records that Okonkwo's life may be worth a footnote in a colonial survey of the darker races—as opposed to how he's just been the subject of the entire book, a pointed critique by Achebe of how the British devalued the humanity of their African subjects. Considering that Things Fall Apart was published in 1958, two years before independence from Britain, that was a powerful indictment. It's now been translated into 45 languages and earned a coveted spot on the list of Harold Bloom's The Western Canon.
Achebe was equally critical of corruption in the Nigerian government following independence, however. His 1966 novel A Man of the People follows a schoolteacher's fight to challenge a corrupt Minister of Culture for his Parliament seat… only to be quickly subsumed himself into the corruption he was supposedly fighting.
Author, rebel, activist, Achebe was as singular as his creations.
Follow Christian Blauvelt on Twitter @Ctblauvelt
[Photo Credit: Craig Ruttle/AP Photo; William Heinemann Ltd.] 
---
You Might Also Like:


15 Oscar-Winning Nude Scenes


Young Jack Black Is Totally Unrecognizable