Chris Brown Avoids Jail After Drake Bar Fight: Winning Again?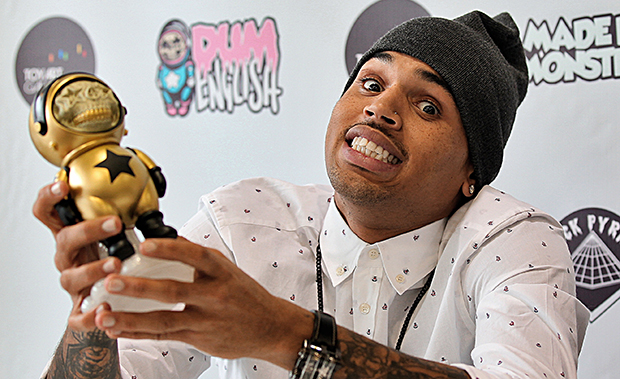 For months (even years) after his brutal 2009 beating of then-girlfriend Rihanna, R&B singer Chris Brown was Hollywood's Public Enemy No. 1. His blatantly remorseless attitude, shirt-ripping morning show freak-outs and overall belligerence rubbed people the wrong way (go figure!).
But over the past year, the 23-year-old has slowly started succeeding again, despite some rather public detractors.  
The latest triumph? Authorities have concluded their investigation into the June 14 bar fight between Brown and his rival, Drake. Investigators have determined that neither will face criminal charges as the result of an alleged nightclub brawl, reports TMZ. Sources indicate that there was not enough evidence to move forward with charges and that the surveillance video in the club where the musicians and their entourages allegedly hurled bottles at one another was so dark and blurry that authorities couldn't make any use of it. 
PHOTOS: TV Characters Who Should Contribute to the Douchebag Jar
Also, this weekend, Brown reunited with his on-again, off-again girlfriend, Rihanna, after she flew to Berlin, Germany to watch him perform on Thanksgiving Day and joined him for the after-show party at a nightclub. The pair were photographed getting into a car together and Rihanna posted on Twitter.com, "All alone in my big ole (sic) jet!!! See u soon lover … Happy Thanksgiving everyone … Berlin. Carpe Diem (Brown's world tour)." 
And the good news doesn't end there. Earlier this month, Brown signed a modeling contract with Wilhelmina International agency. And his high-profile performances at this year's Grammy and Billboard Awards have drawn criticism but also publicity and helped propel album sales for the singer. 
What do you think, readers: Is the Breezy hatred starting to disappear? Have you forgiven and forgotten? Let us know in the comments! 
Follow Michelle on Twitter @HWMichelleLee
[Photo credit: Wenn]
More:
You Might Also Like:

Best and Worst of the Thanksgiving Parade