Classic Crooner Tony Martin Dies at 98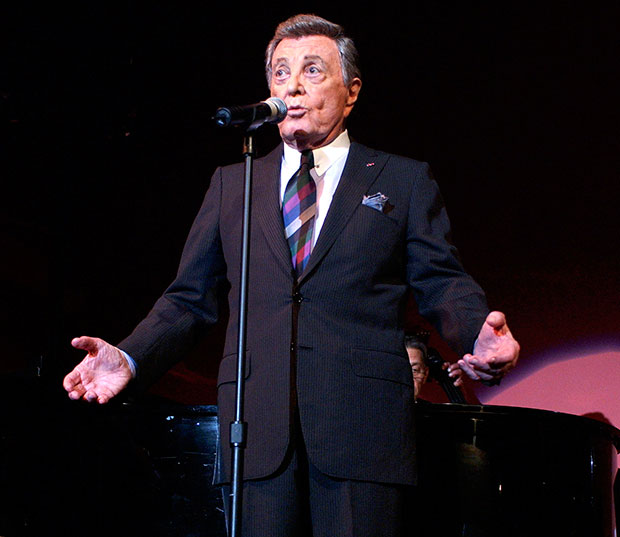 Tony Martin
, a smooth-voiced baritone who found success in Hollywood on the nightclub stage and on the radio during his 80 year career, passed away of natural causes Friday night at his home in West Los Angeles, the
New York Times
reports. He was 98. 
Martin was born Alvin Morris in San Francisco on December 25, 1913 to Hattie and Edward Clarence Morris, well-off Jewish immigrants from Poland. While his parents wanted him to be a lawyer, Martin followed his dreams to Hollywood in the 1930s. His classic looks and great voice quickly earned him roles in musicals, starting with a small role in the Fred Astaire and Ginger Rogers' film Follow the Fleet in 1936. 
Once his Hollywood career got rolling, there was no stopping Martin. He went on to star in films such as Sing, Baby, Sing (1936), Zeigfeld Girl (1941) — in which he serenaded Judy Garland, Hedy Lamarr, and Lana Turner in a Busby Berkeley number — and Casbah (1948). 
While Martin's face filled the silver screen his voice took over the radio air waves. His soulful take on popular ballads such as "I'm With You" (1936) and the Oscar-nominated "For Every Man There's a Woman" (1948), earned him his reputation as a charming crooner. Martin became a regular on the radio show The George Burns and Gracie Allen Show and then hosted his own 15-minute variety program, The Tony Martin Show, on NBC from 1954 to 1956.
In his personal life, Martin proved equally charismatic. He wooed Hollywood starlets including Ava Gardner, Rita Hayworth, Lana Turner, and Alice Faye (to whom Martin was married from 1937-1940). In 1948, Martin wed actress/dancer Cyd Charisse. Their marriage lasted 60 years, until she passed away at age 83 in 2008. 
Martin, who is survived by his stepson and two grandchildren, will be remembered as a man who truly defined Old Hollywood class. 
[Photo Credit: Amanda Edwards/Getty Images]