Clive Davis Comes Out as Bisexual in New Memoir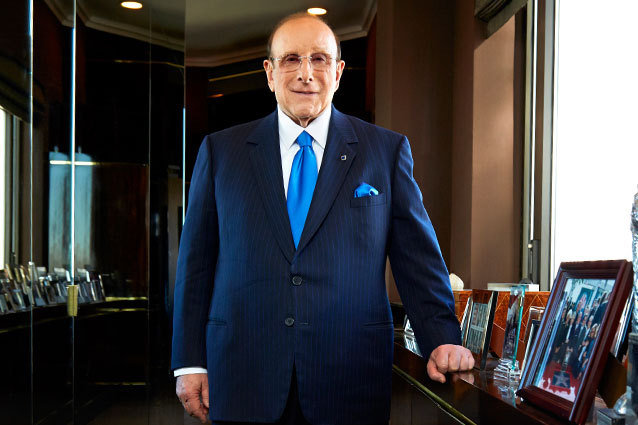 Even as our society makes elemental progress in its views on sexual orientation, there remains an unfortunate anchor attached to America's standpoint on bisexuality. Somehow deemed less "legitimate" than its polar counterparts, bisexuality earns jabs, eye rolls, and ill regard throughout pop culture. But acclaimed music producer/former Columbia Records president Clive Davis — a Rock and Roll Hall of Famer whose 60-odd years in the business helped to launch the careers of Janis Joplin, Pink Floyd, Billy Joel, and many others — takes a more open-minded perspective in his newly published memoir,The Soundtrack of My Life. In the book, an 80-year-old Davis identifies himself as bisexual, calling the often slandered denomination "misunderstood." 
"After my second marriage failed, I met a man who was also grounded in music," Davis says in his book. "Having only had loving relationships and sexual intimacy with women, I opened myself up to the possibility that I could have that with a male, and found that I could … but I never stopped being attracted to women."
RELATED: Ke$ha to Release 'Crazy Beautiful' Illustrated Memoir
Davis speaks on the limiting attitude assocated with the orientation: "Bisexuality is misunderstood; the adage is that you're either straight or gay or lying, but that's not my experience. To call me anything other than bisexual would be inaccurate."
The producer also took to Katie Couric's talk show Katie on Tuesday morning to affirm his revelation. "You don't have to be only one thing or another," he said. "For me, it's the person." Davis told Couric that he is presently in a monogamous relationship, but did not specify with whom.
RELATED: Arnold Schwarzenegger's 'Total Recall' Memoir Reveals Dark Secrets
The public's mindset on bisexuality is in need of a good deal of repair, but confident and earnest ownership like Davis' is exactly the sort of thing that will foster a healthier, more objective, and open outlook. "Publicly acceptable" scapegoats are often used to cushion the blow of change for those afraid of new ideas. Whereas many might feel comfortable taking swings at bisexuality, Davis' words need to be heard: many people are neither wholly straight nor gay. To deny these individuals the same reverence we would those identifying as one of the two ends of the same spectrum is simple intolerance, no matter how many people, movies, and TV shows are also joking about it.
Follow Michael Arbeiter on Twitter @MichaelArbeiter.
[Photo Credit: Dan Hallman/Invision/AP]
---
From Our Partners:

Kate Upton Bares All in Nothing But Body Paint: Video (Celebuzz)

Bradley Cooper Dancing Is Surprisingly Awkward, Sweaty (Vh1)