CMA Award Winners: Did Taylor Swift Walk Away Empty-Handed?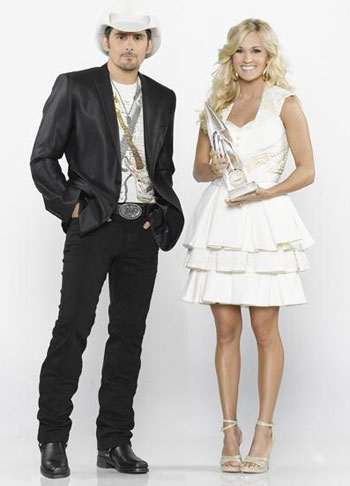 Taylor Swift saw a lot of green earlier this week when her fourth album, Red, sold a whopping 1.2 million copies in its first week, but did she also see gold at the 46th annual Country Music Awards? Despite her three nominations, the young singer — who was nominated for Entertainer of the Year, Female Vocalist of the Year, and Musical Event of the Year — had plenty of competition: Swift faced off against country giants like Miranda Lambert, Kenny Chesney, Carrie Underwood, and Jason Aldean and pop greats like Kelly Clarkson and… Snoop Dogg(?!).
But did Swift get the chance to break out her patented surprise face during Thursday night's awards, hosted by Brad Paisley and Underwood? Or did country power couple Lambert and Blake Shelton find cause to celebrate? See the full winners list below to find out!
Entertainer of the Year
Blake Shelton
Male Vocalist of the Year
Blake Shelton
Female Vocalist of the Year
Miranda Lambert
Vocal Group of the Year
Little Big Town
Vocal Duo of the Year
Thompson Square
New Artist of the Year
Hunter Hayes
Album of the Year
Chief, Eric Church
Single of the Year
"Pontoon," Little Big Town
Song of the Year
"Over You," Miranda Lambert
Musical Event of the Year
"Feel Like a Rock Star," Kenny Chesney and Tim McGraw
Music Video of the Year
"Red Solo Cup," Toby Keith
Musician of the Year
Mac McAnally
[Image Credit: Bob D'Amico/ABC]
More:
Taylor Swift Storms the First Round of the CMA Award Nominations
24 Cool (and Ghoulish) Celebrity Halloween Costumes