Could Ben Affleck Be a Senator? 10 Real-Life Pop Culture Politicians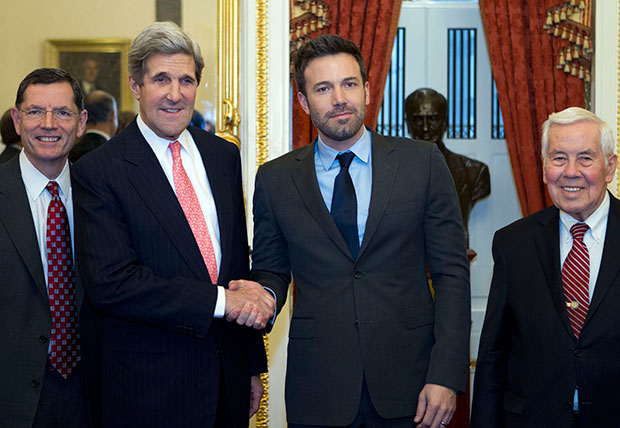 Rumor has it that Ben Affleck is very strongly considering running for a seat in the Senate — specifically, the one John Kerry will (presumably) vacate when he (presumably) becomes Secretary of State.
While the thought of entrusting your representative democracy to the man who starred in Phantoms will take a little time to get used to, it's comforting to think that many other people who became famous for things other than government have embraced a second career in politics.
Come on, the Terminator spent eight years running the state of California, the most populous state in the U.S. Surely the man who gave us the thought-provoking historical drama/Oscar contender Argo wouldn't do much worse representing his home state.
Affleck has not officially denied reports, though it's hard to believe he'd want to leave his showbiz career at such a high, well-regarded point. (Other actors rumored to be turning to politics, like Alec Baldwin, have denied rumors outright.)
In Affleck's honor, here are a few pop culture figures who entered politics after successful careers in the public eye.
Arnold Schwarzenegger
After winning a recall election in 2003 to replace California governor Gray Davis, Ahnold served one more term leading the third-largest state in the union before returning to what he might arguably do best: action movies.
Clint Eastwood
Another actor-turned-director, Eastwood entered politics in the 1980s when he served as the non-partisan mayor of the California town Carmel from 1986 to 1988. After his notorious empty chair speech at the 2012 Republican National Convention, though, it's clear where his allegiances lie these days.
Jesse Ventura
Ventura became a pro wrestler after his stint in the Navy during the Vietnam War. He ran for his first political office in the 90s, serving as mayor of Brooklyn Park, Minnesota from 1991 to 1995, and later the governor of Minnesota (1999-2003). He's now a visiting fellow at Harvard's JFK School of Government. Not too shabby!
Linda McMahon
McMahon and her husband, Vince, started the WWF (now the WWE). After serving as President and CEO of the professional wrestling organization, she has run unsuccessfully for two different Senate seats in Connecticut.
Bill Bradley
Talk about an overachiever — Bradley is not only a former professional basketball player, he's also a Rhodes Scholar, an Eagle Scout, an Olympic gold medalist, and a three-term Senator from New Jersey. He ran for president in 2000, but we all know how that turned out.
Kevin Johnson
Another pro basketball player, Johnson is entering his second term as mayor of Sacramento, Calif.
Manny Pacquiao
The well-respected boxer ran for Congress in his native Philippines, where he has served since 2007. He's up for re-election in 2013.
Sonny Bono
After making a name for himself as a singer and actor, Bono became mayor of Palm Springs, Calif. in 1988. In 1994, he ran for Congress, where he served until his death in 1998. His wife, Mary, finished out his Congressional term.
Ronald Reagan
Perhaps the most famous actor-turned-politician, Reagan was a film and television actor — and even president of the Screen Actors Guild — before he went into government. The two-term California governor also served two terms as President of the United States in the '80s.
Sean Duffy
You were first introduced to Duffy when he was a roommate on The Real World: Boston in 1997. His reality show past didn't seem to hurt when he became district attorney of Wisconsin in 2002, a post he left in 2010 to run for Congress. Duffy was recently re-elected to his second congressional term.
So, how would Affleck stack up against the likes of these men and women? Are any of your favorite pop culture politicians missing from the list?
Follow Jean on Twitter @hijean
[PHOTO CREDIT: Jose Luis Magana/AP Photo]
More:
Ben Affleck and Matt Damon Race to the South Pole
Dear Ben Affleck, Don't Lose Your Sense of Humor

'The Hobbit' Cast: A Who's Who New Character Guide (Moviefone)

'Les Miserables' Unscripted: Hugh Jackman, Anne Hathaway On Singing And Being Modest