EXCLUSIVE: Director David Rodriguez On Working With High-Powered Stars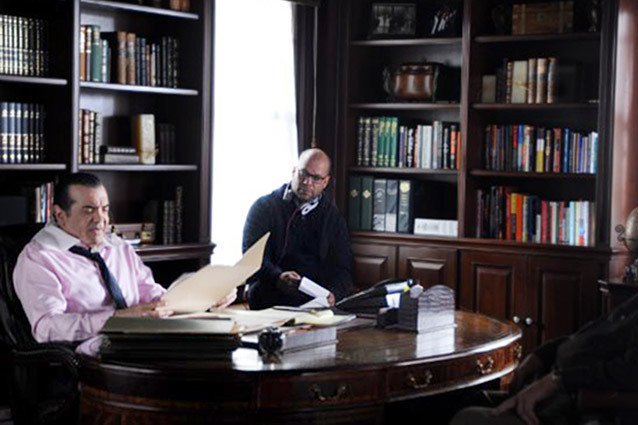 Last I Heard
From a military academy in NY to the bright lights of Hollywood, director David Rodriguez has become a pro at taking his films from indie to gold. He shares his passion for writing, directing and what it's like working with an ensemble cast in his latest film, Last I Heard, premiering at the Austin Film Festival.
How do you go from the New York Military Academy to directing and writing films? 
I've always been enamored with show business. I can't say however that there was a clear transition from NYMA to writing films. I lived quite a bit between NYMA and directing my first film. What I did learn…was the value of strong time management skills and that has certainly informed my process as a director. 
How long have you been writing/directing? 
I started writing about 16 years ago and directed my first film which I wrote in 2004.
What does being a director mean to you?
That's a loaded question, and all I will say is this; directing fulfills me personally and professionally and I can't see doing anything else. I absolutely love being on set and collaborating with a team of actors and crew that are there to bring my creative ideas and thoughts to life.
 Your latest film, Last I Heard, follows a gangster just released from prison after 20 years. It's a take I haven't seen done before, where did the story come from? 
The genesis of Last I Heard came from what I saw as a demise in NY organized crime. I'm a NY '80s kid and what I saw then in the news, as compared to what I've seen now is quite different. I'm also very aware of social issues and the affect they have on the older American generation, so I felt like a deteriorating gangster thrown into having to deal with some serious social issues was a recipe for a great and original story.   
The film has done very well in the festival circuit premiering at the Seattle International Film Festival, Hollyshorts Film Festival, Director's Guild of America and the upcoming Austin Film Festival. Tell us a little about taking a film on the road with festivals.
When I made my first feature, the idea of traveling to different festivals was exhilarating. I now understand that festivals are designed to promote your film. The business of being part of a festival is daunting. You really hope your film is well received, so I do try to make it to each festival and after each screening, I find myself scouring the internet for reviews, hoping that critics love the film as much as I felt the audience had. I feel very fortunate that the love everyone had for making Last I Heard has translated into a solid film. So far festival audiences are liking it and that's all we can hope for.
Last I Heard was the first feature-length film to ever premiere at Hollyshorts. How did that come about? 
I had a short film premiere at HollyShorts a few years before. It was actually a pilot presentation / TV sample called 'The Blue Wall' that my agent at the time thought played well as a short. The guys at HollyShorts felt it would be an inspiring thing for short filmmakers to see a feature from a director who had a short at the same fest a few years before. I feel like they may have found some success in this and hopefully we established a new standard for the festival.
You chose an all-star cast. Did you have these actors (Paul Sorvino, Michael Rapaport) in mind when writing the film? 
I definitely had those guys in mind from the beginning. Working with Paul and Michael was an amazing experience. Any time you're able to work with master actors like those guys makes your time on set much easier than normal. I've learned over the years that no matter the star power of an actor, they all want to be directed. I also had Renee Props, Chazz Palminteri, Steven Bauer, Paul BenVictor, Hassan Johnson and Lev Gorn on set and that was only a part of the ensemble cast. The experience also showed in how fast I was able to move while still capturing unbelievable performances. We shot the film in 18 days and during the last week, we were looking for scenes to add on to the day. Each day was scheduled for twelve hours and the last few days we were done just after lunch. If anything, that's what experience across the board gets you.
Tell us a little about your heritage. Does this influence your films? 
I'm Puerto Rican by both parents. My dad's family were new to the island via Barcelona, Spain and I do speak, read and write Spanish fluently. I'm not sure that my heritage influences my work directly but, I do have that blue collar DNA in me which is what drives me to work hard toward the professional goals I've set for myself.
What's next for you? 
I was fortunate to have sold a show to AMC called The Street Attorney this past summer. However, I'm open to everything at this point but, my main focus at this time is breaking into episodic directing. The idea of working frequently in a great time in television appeals to me more than sitting at home dialing for dollars in order to get another indie feature made. The indie business is so hard right now and fortunately, I've written and directed three features, but unfortunately, I don't have a trust or a rich family.  
Last I Heard will screen at The Austin Film Festival, Tuesday October 29.