Does Tom Cruise Fancy Himself a Real-Life 'Doctor Who'?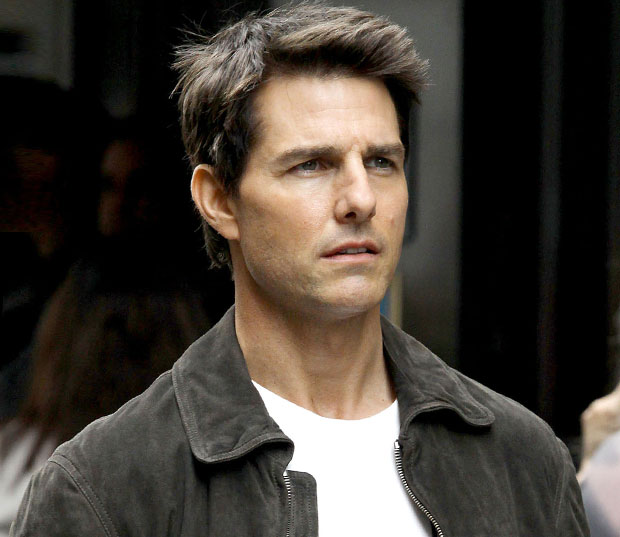 Tom Cruise: actor, philanthropist, occasional singer, Scientologist, and Lone World Defender. Apparently it is that last one — says a new book — that has convinced Cruise that he's been put on this Earth (thanks to main Scientology celestial being Xenu) to vanquish alien lifeforms. Does Tom Cruise own a secret TARDIS?
According to a new book on the subject titled Going Clear: Scientology, Hollywood & The Prison of Belief, author and New Yorker staff writer Lawrence Wright details Cruise's status within the church, as well as the pre-destined purpose of its members — protect humanity from aliens living in our bodies, who are bent on destroying us and ultimately the planet.
Wright's new book is said to be partially based on a profile of director and former Scientologist himself, Paul Haggis, and focuses on the legacy of the religion's founder L. Ron Hubbard and current leader, David Miscavige. The book will contain over 200 interviews with "current and former" Scientologists running the gamut in terms of importance and experience within the organization.
Cruise was 23 when he was introduced to the religion by then-girlfriend Mimi Rogers, and quickly escalated to being the number three main dude within the Scientology hierarchy, after Hubbard and Chairman of the Board (of a religion?) Miscavige. According to Wright, Cruise believes is one of the few folks who can accomplish the duty of converting nonbelievers to the church. Which will, naturally, result in the salvation of planet Earth. The New York Post quotes Cruise on the subject as saying "I wish the world was a different place. I'd like to go on vacation, and go and romp and play, you know what I mean? But I can't. Because I know. I know. I have to do something about it. You can sit here and wish it was different, but there's that moment where you go, 'You know, I have to do something. Don't I?'"
So what does that all have to do with aliens? Well, because of what the religion believes: that a human is "an immortal, extraterrestrial, spiritual being (a thetan)," trapped on Earth, held inside the physical human body. However, it seems to be purported in the book that some new aliens peeped Xenu's big idea and decided to get in on the Earth-going game, and have trapped themselves in other human bodies with intent to destroy it. Enter: Tom Cruise, spiritual leader and defender against the Universe.
The question then, is this: does Cruise believe that thetans are like Time Lords? Is Doctor Who actually the veiled story of Tom Cruise's life, or at least his own personal guide to saving the human race from extraterrestrial beings? If so, are all his ex-wives actually just his companions?! Does that make ex-wife Nicole Kidman his Rose Tyler? I think Katie Holmes is more of a Amelia Pond than a Martha Jones. And Mimi Rogers was a total Sara Jane Smith, don't you think? This changes everything.
[Photo Credit: WENN]
Follow Alicia on Twitter @alicialutes
More:
Is Tom Cruise Still a Box Office Star?
The Beginning of Tom Cruise's 'Oblivion' Looks Like the End of 'Planet of the Apes' — POSTER
'Oblivion': Tom Cruise's Post-Apocalyptic Future Is Appropriately Glossy — TRAILER

25 Risqué Miley Cyrus Stage Outfits (Celebuzz)