Wrestling Is Real! Proof: Dwayne Johnson Gets Emergency Hernia Surgery After WrestleMania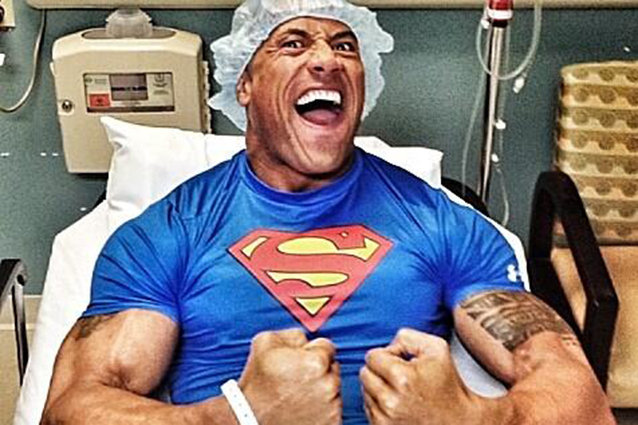 We all remember exactly where we were when our belief in magic, our ability to dream, our childlike innocence were dashed — that fateful day in fourth grade when we found out, via the graces of our vindictive older siblings, that professional wrestling is a total fake. Well, your youthful vigor is about to be reinstated, as the small screen, tights-bound antic is not quite as phony as you might believe: following his participation in 2013's WrestleMania, iconic wrestler/actor Dwayne "The Rock" Johnson was forced to undertake emergency hernia surgery on Monday, as reported by E!.
WrestleMania 29, which took place on Apr. 7, pit The Rock against former-MMA fighter John Cena, and ultimately landed him in the hospital two weeks later. On Apr. 8, Johnson tweeted the following nonchalant messages about his physical condition:
In the middle of last nights Wrestlemania match I tore my abdomen & adductor muscles off the bone. Just part of the job. But as we know..

— Dwayne Johnson (@TheRock) April 8, 2013
..It's all about #JustBringIt. WWE Universe THANK YOU for all the love & well wishes. Means everything to me. #LeaveItAllInTheRing

— Dwayne Johnson (@TheRock) April 8, 2013
Several days later, Johnson updated fans with another tweet:
Saw my Dr who had to push my intestines back thru the tear in my abdomen. Kinda romantic.Surgery is next week. #BringItOn

— Dwayne Johnson (@TheRock) April 21, 2013
And after the surgery, on Tuesday, the Pain & Gain star put his followers' worries to rest:
Surgery a success! Dr repaired 3 hernial tears (fun pain). Superman is on the mend.. #WeFallWeRise twitter.com/TheRock/status…

— Dwayne Johnson (@TheRock) April 23, 2013
A rep confirmed to Hollywood.com that Johnson is presently home, recuperating. So now that the WWE mainstay is sitting pretty in good health, we can celebrate the silver lining of this news: Pro Wrestling is, indubitably, real. Take that, spiteful older brothers everywhere.
Additional reporting by Lindsey DiMattina.
Follow Michael Arbeiter on Twitter @MichaelArbeiter
More:
All the Homoerotic Photos from WrestleMania 29
How Dwayne Johnson Became Pro Wrestling's Most Successful Actor
Dwayne Johnson Partly Remembers Playing a 'Part Scorpion, Part Man'
---
From Our Partners:


Eva Longoria Bikinis on Spring Break (Celebuzz)


33 Child Stars: Where Are They Now? (Celebuzz)