Facebook's New Slogan: Put Your Butt On It!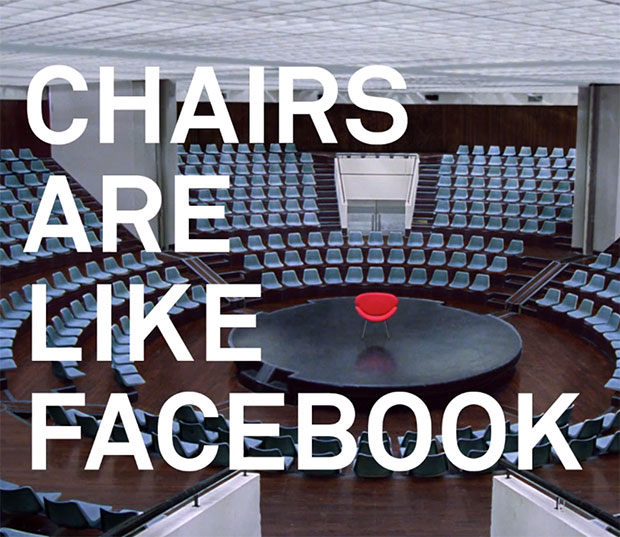 Okay, that's not exactly true, but it might as well be following the release of Facebook's first ad, which centers on the breakout star of 2012: Chairs. Piggybacking on the nation's (and Clint Eastwood's) newfound obsession with the piece of furniture, the social networking site's ad delivers a metaphor that's straight out of a bad high school valedictorian speech: Chairs are like Facebook. Because chairs (especially those that hover inexplicably in the middle of a forest) connect us through various activities. When we sit down, we socialize. Unless, of course, you've ever been to a networking event, a college football game, a beer-soaked frat house, or any other social activity outside our couches and office chairs that requires us to stand for hours on end. Facebook, however, does not compute an existence away from the computer. Unlike. Return your butts to Facebook!
But that's not all: Facebook is also apparently like doorbells, airplanes, bridges, basketball, and
every other word Ron Swanson knows
. We could hope that this ad is simply a result of the site's ad-bot short-circuiting, but, then again, the spot gave us an excuse to revive our pop culture chairs gallery. So, yes, Facebook — we will put our butt on you!
See the ad below, and check out our pop culture chairs gallery!
[Image Credit: Facebook]