How Did George W. Bush Learn How to Paint? Not Like the Old Masters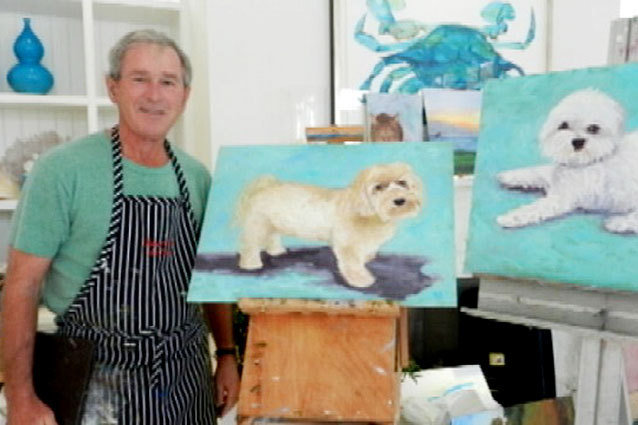 It used to be that to become a painter, you would apprentice with an old master for decades in order to master the tiniest, most delicate brushstrokes, subtle shades of lighting, and mathematically-based perspective tricks. That's how Vermeer and Rembrandt came to anchor the Dutch School. How the Renaissance maestros learned to imbue breathtaking realism into Biblical or mythological settings. Or you could just teach yourself to paint via an app on your smartphone.
That's the way George W. Bush learned to apply brush to canvas. In an interview with NPR's David Greene, former first lady Laura Bush talked about her husband's recent foray into the fine arts and the daring subjects he's rendered in oil and acrylics: his pets. "He was looking for a pastime," Mrs. Bush says. "He got an app on his iPad where he could draw pictures. Like, he'd draw a picture of him in bed with Barney and the cat." The fact that Barney has now died lends a poignant streak to his work.
To deepen his connection to his chosen medium and place himself in the context of politicians turned painters of yore, Bush turned to presidential historian John Lewis Gaddis, his wife says. Gaddis recommended that Bush read Winston Churchill's book Painting as a Pastime, since the legendary prime minister liked to dabble in watercolors himself back in the day when he wasn't fighting Nazis. So now, he paints for several hours a day and bombards his wife and daughters with pictures of his handiwork, even when they're on the road.
This is what can happen when you're no longer the leader of the free world.
Follow Christian Blauvelt on Twitter @Ctblauvelt
More:
George W. Bush Nekkid Portraits Leaked: Check Out Other Pop Culture Nude Art!
Randy Jackson, 'American Idol' Is Nothing Like Picasso 
Chris Brown Feels Sad, Paints the Jesus Crucifixion   
---
From Our Partners:


Beyonce Flaunts Bikini Bod for H&M (Celebuzz)


33 Child Stars: Where Are They Now? (Celebuzz)