Gigantic Mr. Darcy Wins London's Wet T-Shirt Contest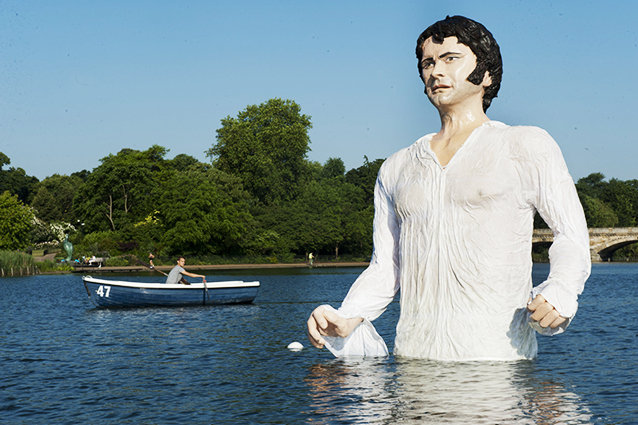 Anyone who thinks wet t-shirt contests are trashy has never seen Colin Firth work his magic in the classic BBC adaptation of Jane Austen's Pride and Prejudice.
Thankfully, this misguided belief is no longer an issue as a giant 12-foot sculpture of Firth's Mr. Darcy now emerges from Serpentine Lake in London's Hyde Park to celebrate today's launch of the new UKTV channel "Drama". The statue, which appropriately stands at a height equivalent to a double decker bus, will tour the UK outside of London before it is installed at Lyme Park in Cheshire, where the infamous scene was originally filmed.
The wet shirt scene, deemed quite racy at the time, recently topped a UK viewers' poll of the most memorable TV moments ever. Who knew the 1800's could be so sexy?
Follow Lauren On Twitter @Lopay92 | Follow Hollywood.Com On Twitter @Hollywood_com