Helen Gurley Brown, Trailblazing 'Cosmopolitan' Editor-in-Chief, Dies at 90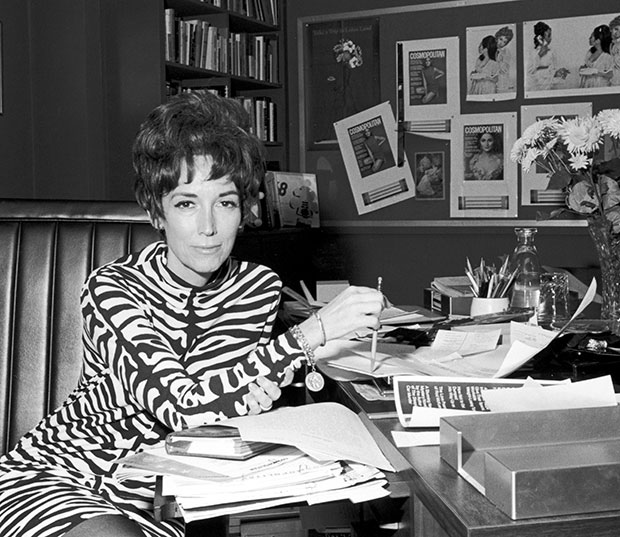 The media world has lost one of its greats. Helen Gurley Brown, former Editor-in-chief of Cosmpolitan magazine for 32 years, passed away at the age of 90 Monday, the New York Times reports. A spokesperson for the Hearst Corporation (which publishes Cosmo) says that Brown had been briefly hospitalized at New York-Presbyterian Hospital/Columbia prior to her death.
Brown started out her career in the industry after graduating from Woodbury Business College in 1941. Her first jobs were at William Morris Agency, Music Corporation of America, and Jaffe talent agencies. She next went to Foote, Cone & Belding advertising agency, and it was there that her boss realized that Brown had a true talent for writing. By 1962, Brown's best selling book, Sex and the Single Girl, was published — and in 1965, she took over the role of Editor-in-chief of Cosmo. It's because of her that the magazine's failing sales quickly turned around and became profitable again. When she left Cosmo in 1997, it was ranked number six on the newsstands.
Throughout her career, Brown worked with the likes of many celebrities. In 1972, Cosmo ran a near-nude piece of Burt Reynolds, which caused a lot of controversy at the time. The magazine also had feature pieces on Jack Nicholson and Aurore Clement.
But despite the risque features, Brown's work played a major role in what is often referred to as the sexual revolution. And her talents will be truly missed throughout the industry.
"It would be hard to overstate the importance to Hearst of her success with Cosmopolitan, or the value of the friendship many of us enjoyed with her," the Hearst Corporation says in a statement. "Helen was one of the world's most recognized magazine editors and book authors, and a true pioneer for women in journalism — and beyond."
Cosmopolitan's Twitter account posted the following message regarding Brown's passing: "We're very sad to report that legendary Cosmo editor Helen Gurley Brown passed away. She revolutionized the mag & empowered women worldwide."
[Photo Credit: Getty Images]
More: