Hillary Clinton Supports Gay Marriage: 'Human Rights Apply to Everyone, Gay and Straight' — VIDEO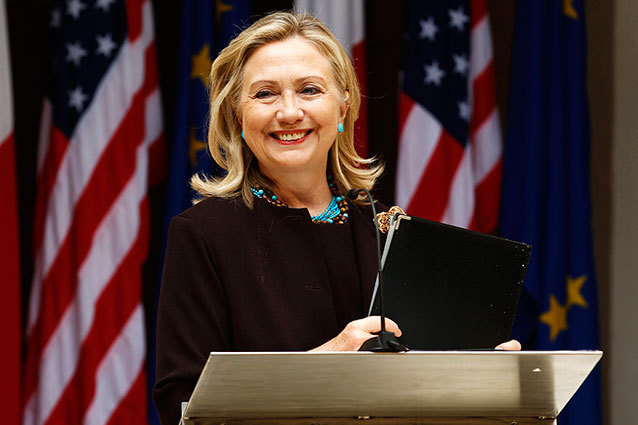 It's easy to take the freedoms of our society today for granted, especially for those who grew up in the past two decades. It's easy to forget about an America wherein political officials and public figures felt they could not come out in support of certain issues, in this case those pertaining to the LGBT community. And it is an uplifting gift that we might find ourselves so embedded in an era of tolerance that the alternative becomes difficult to even imagine, but that doesn't mean that progress has yet to be made.
RELATED: Hillary Clinton Erupts at Benghazi Hearing: Don't Be Afraid to Let It Out, Politicans
On Monday, Hillary Clinton released a statement in the form of the below video affirming her support for gay marriage. The former senator and Secretary of State has spoken on the issue with varying stances in the past — in 2003, she stood in opposition to the right for homosexuals to marry, but offered support for civil unions; in 2011, Clinton addressed the nations of the world from a platform in Geneva with a message in favor of LGBT rights:
But in this video above, in which she states her belief that "human rights apply to everyone, gay and straight," marks the first official statement Clinton has released domestically, just over a month following her dismissal from her Secretary of State position. Clinton's term in the public eye has provided a muddled vantage point on her stance on LGBT issues: a March 2007 interview resulted in controversy when Clinton, despite her later declarations, hesitated to come out and defend homosexuality against accusations of immorality. We know that Clinton does not subscribe to these backwards mentalities; we're just surprised she hasn't taken more steps to make her progressive attitudes more clear and available.
RELATED: Conservative Doc '2016' to Follow Up Anti-Obama Message with 'America'
Still, especially in light of Clinton's plausible run for the presidency in 2016, we're happy to receive this latest message, trusting that her potential admittance into the White House will not mark any sort of recoil on the issue. While it might have taken President Barack Obama a bit longer than desired to open his mouth candidly in this conversation, the past year has seen an influx of support from government figures on both sides of the party lines. We might undervalue the luxury of the era in which we live, but let us hope that figures of influence — Clinton, Obama, Sen. Rob Portman — continue to remind us of how lucky we are.
Follow Michael Arbeiter on Twitter @MichaelArbeter
[Photo Credit: Kevin Lamarque/Pool/AP Photo]
---
You Might Also Like:


Topanga's Revealing Lingerie Shoot: Hello '90s!


Stars Who Have Lost Roles For Being Too Hot (Celebuzz)