Hip-Hop Needs Azealia Banks To Drop That Album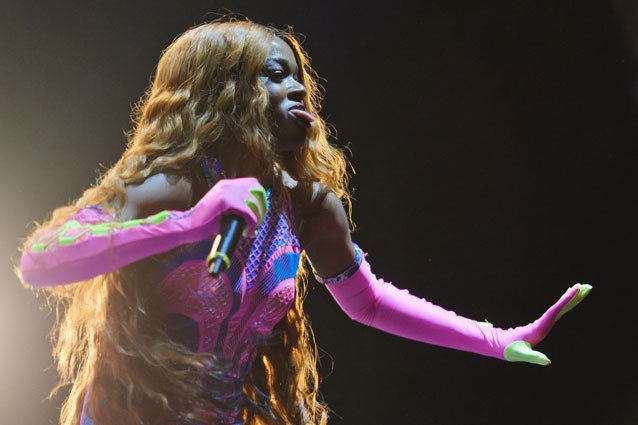 Joseph Okpako/Getty Images
Azealia Banks was hailed as the next big thing, like, a million years ago (in pop culture time). But with all the album push-backs, and all the Twitter beefs, it's been easy to forget that the talented Harlem rapper could still be the next big thing!  Broke with Expensive Taste is currently slated for a January 2014 release, and even though we were originally expecting it this year (and before that in 2012), there's still plenty to get psyched about. As we patiently wait to hear what a real, live Azealia Banks album sounds like, let's give this Yung Rapunxel movement a little push. Here are five reasons we desperately need Azealia to become a true staple in Hip-Hop.
Her Beefs Make For Some Pretty Good Diss Records
Okay, so we're not really supposed to condone beef, but it is a part of Hip-Hop culture and it has made for some classic songs over the years. Azealia has beefed with everyone from Lady Gaga to Jim Jones (to Angel Haze, to Perez Hilton, to Lil Kim, etc.), and some of the tracks — like "No Problems" — have actually been pretty dope. 
The Sausage Party Is Getting Old
Kanye West, Jay Z, Kendrick Lamar, A$AP Rcoky, J. Cole, Drake, Lil Wayne, etc.– we love you guys. Really, we do. But the sausage party is getting old, as sausage parties are wont to do. And although it's cliché to point out the lack of women in, well, anything, we simply need more women in Hip-Hop! From what we've seen, Azealia has her own brand of femininity that could definitely liven this party up.
We Need More Of Her Super-Dope Videos
Azealia is not afraid to pull on influences from a variety of genres, which makes her way more fun to watch than the average person. R&B, pop, rap, rave — all genres are up for grabs. And when her eclectic style gets translated into visuals, it's always an experience.
She's Sexy And Sexual, Without Making That The Foundation Of Her Appeal
This is hugely important, and almost impossible for a woman in Hip-Hop (or any other artistic movement) to achieve. Even though she was featured on the cover of Dazed & Confused blowing up a condom, and she definitely plays up on her sex appeal, Azealia manages to come off more New York funky-fashionista-turned-rapper than anything else. While artists like Lil Kim, Foxy Brown, and Nicki Minaj have surely influenced her (and paved the way for her to do her own particular thing) it's refreshing and exciting to see a femme rapper take a slightly different approach to her image.
"212" Is Still The Jam
It's hard to believe that Azealia's debut single dropped back in 2011, mainly because it is still the jam! "212" introduced listeners to a unique style, and it was seriously difficult to place Azealia in one particular box. All good signs of good things to come.
More:
Azealia Banks Gets Political On Twitter
5 Reasons Azealia Banks Will Be Huge In 2013
Azealia Banks Beefs With Perez Hilton
---
From Our Partners:


40 Most Revealing See-Through Red Carpet Looks (Vh1)


15 Stars Share Secrets of their Sex Lives (Celebuzz)