Hollywood.com Press Pass: The Maine at Webster Hall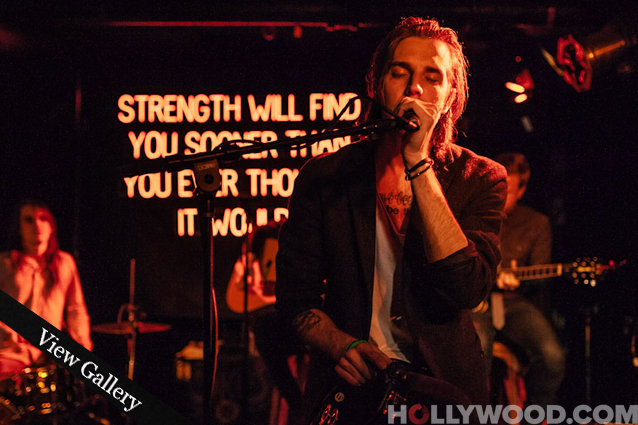 Sarah Kuszelewicz/Hollywood.com
The band The Maine, originally from Tempe, Arizona, has been active within the music scene since 2007. Formed by members John O'Callaghan, Jared Monaco, Kennedy Brock, Garrett Nickelson, and Patrick Kirch, The Maine performed an acoustic set for an intimate, sold-out crowd at The Studio at Webster Hall on February 27 for their An Acoustic Evening with The Maine tour.
Performing songs from their previous albums, the boys made this show more personal than previous tours. Talking to fans in the crowd, they got on topics ranging from playing "Hot Cross Buns" on the recorder in school (they literally started singing it in the middle of their song "Take Me Dancing"), to their mutual love for That's So Raven. We even got to enjoy a pretty entertaining story about O'Callaghan's high school years. We'll keep it PG and just say it involved a sink and a certain bowel movement.
This past December, The Maine released Imaginary Numbers, their first acoustic EP. Written and produced by the band, this album set a different and fresh tone for The Maine. Comparing this tour to the first time I saw them perform live in 2008, the maturity of their music and confidence on stage made me not want the night to end (so cliché, right?). If you haven't seen The Maine in concert yet, you're in luck. The boys are touring nonstop until August and making stops in the UK, Brazil and then back to the states this June. Hurry up and buy your tickets for the show closest to you, before they sell out (because they will). You can also download Imaginary Numbers, as well as previous albums, on iTunes today.